Size Matters
Let's not judge a portfolio by the number of images in it. A single, good work of art is better than 10 mediocre ones on display. But we understand the situation of some of our members who are busy to upload more images to their portfolios consistently.
We help you create the best impression
Far too often, a portfolio that has very few images will be overlooked for appearing too bare. Therefore, to best present all our members' works in the best possible light, portfolios with less than six images will have their portfolio set to 'Full View' by default. Portfolios with less than 18 images will have their portfolios automatically displayed in 'Broad View'.
Try out the examples below:
1) Full View (Less than 6 images)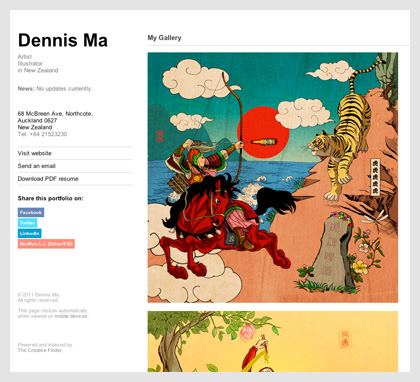 2) Broad View (Less than 18 images)
3) Standard View (18 or more images)
Gain additional exposure towards our readers on the road
On top of that, all portfolios are now listed on DesignTAXI's
mobile edition
. So now anyone can browse through the portfolios on-the-go using their mobile devices. This definitely benefits not only businesses who are looking for a creative professional but also for anyone looking for some visual inspiration while traveling.
Search made better
Last but not least, we have addressed the flaw in our search engine on
The Creative Finder
. Before, the keyword search only recognizes either an artist's first or last name to return all members to match either name.
This can get frustrating if you're looking for common names like "John" and have to browse through a whole list of names to get to the member you're looking for. To make the search more efficient, we have optimized our keyword search function to be able to recognize an artist's full name.
We value your feedback, so keep them coming in. If you've any more suggestions on how we can make TAXI and The Creative Finder better products, do email
us
.
To find out more benefits or to register for your portfolio account, please visit the
signup page
.