Don't miss the latest stories
Share this
Top 10 Most Popular Stories over the Past Week
By TAXI, 27 Oct 2012
1) The Phobias Of Creatives



To highlight the fears of creative professionals, creative agency Column Five Media—in collaboration with the social network for creatives The Creative Finder—has created an infographic.
2) 'Password' Still Tops List Of 'Worst Passwords of 2012'



Productivity software company SplashData has just released its list of 'Worst Passwords of 2012'.
3) The Top 10 Fonts Designers Love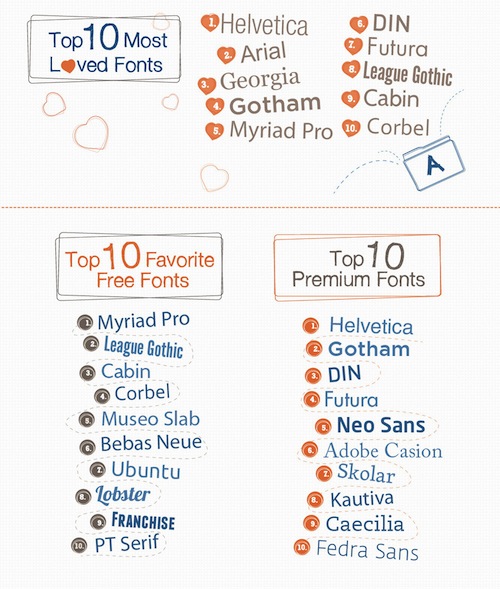 In an infographic entitled 'Top 10 Fonts Web Designers Love'—created with the help of Piktochart—lists: the top 10 most loved fonts, the top 10 most favorite free fonts, and the top 10 most popular premium fonts.
4) Popular Lies About Graphic Design



In an attempt to debunk the various myths, misconceptions and outright lies that permeate the industry of design, New York-based British designer and art director Craig Ward has written a book entitled 'Popular Lies About Graphic Design'.
5) Artist Creates Photorealistic Portraits Using A Pencil



We know it's hard to believe, but these portraits aren't photographs—they are actually drawings done by Italy-based artist Diego Fazio, who used nothing but a pencil to create these amazing photorealistic pictures.
6) A Graphic Designer's Resignation Letter



Pakistan-based Associate Creative Director at Spectrum Y&R Sharjeel Ahmad has written a tongue-in-cheek resignation letter that speaks the heart of every designer.
7) Typeface For The Rio 2016 Olympics Unveiled



The International Olympic Committee (IOC) has unveiled the official typeface for the upcoming Rio 2016 Olympic games.
8) How To Win 'Rock, Paper, Scissors'?



The infographic says that paper is thrown least in the match—paper is thrown 29.6% of the time, rock is thrown 35.4% of the time, scissors is thrown 35% of the time.
9) Photographs Taken At The Edge Of The World




Finnish self-taught photographer Mikko Lagerstedt may have started shooting only four years ago, but he has quickly developed a signature style for landscape and nature photography that is hauntingly beautiful.
10) App Tells You When's A Good Time To Take A Toilet Break During A Movie



If you have ever had to hold it in and put off going to the toilet during a movie—because you didn't want to miss anything important—you'd know where mobile app 'RunPee' is coming from.
For the most current updates within the creative, media, and technology industries, please follow TAXI on
Twitter
,
Facebook
,
LinkedIn
, or
Pinterest
Receive interesting stories like this one in your inbox
Also check out these recent news