Icograda: Sara Little Turnbull and Darrel Rhea
Icograda Design Week in Seattle
was an international design forum which took place in Seattle, USA last 9th July till 15th July 2006.
Defining Design on a Changing Planet,
Icograda invited 22 international speakers to discuss on the role of design in this global awareness of evolution; how design has and may serve the economy and society and will also address the major topics design faces: cultural, political, economic and environmental issues at work in a global society. Last year's Icograda Design Week is first in history to be held in USA and is in partnership with AIGA Center for Cross-Cultural Design.
TAXI Design Network proudly supported Icograda Design Week in Seattle as the Major Media Partner. The editorial crew from TAXI Design Network proudly reported the conferences live and delivering to you our interaction with the presenting design leaders.
For every week from April to June 2006, TAXI Design Network conducted exclusive interview sessions on the speakers based on their opinions of design in the growing world of yesterday, today and tomorrow.
Please visit
Icograda Design Week in Seattle
for more information.
Exclusive Highlight on TAXI Design Network
Interview with Sara Little Turnbull
TAXI >> You believe creativity is not just the gift of a chosen few, but rather a vital power available to everyone. Is there a high demand for creativity and innovation in companies nowadays, and how receptive and ready, do you think companies are towards risk-taking?

Sara Little Turnbull>> Creativity: It's true that many companies talk about how creative and innovative they want their organization to be, but stripped of the "violin music" that goes with that, is the fact that most companies are very cautious about risk. Yet risk is inherent in having creativity and innovation as a part of the company's strategy. Most of the time creativity stays at the hope and dream phase. It is my experience that an innovative practice represents courage on the part of the company's management. It represents a fearless attitude toward risk. More strongly put, it requires "patient money" and it requires very particular talent to implement innovative and successful results.
TAXI >> You have been working all over the world since the 1950s. Besides spreading and sharing your knowledge on design and cultural anthropology, what kind of knowledge do you inevitably part to your students?
Sara Little Turnbull>>
The designer is the conscience of the company. We can't expect anyone else to fill this role. The designer is the answer. So, I encourage students to see the full panorama of the characteristics of a society. It helps to look at the political implication, and the social implication; in other words, the similarities in a society that shape and formulate the things that they design.
I tell my students that when you design: Define the problem, create a solution and plan a subsequent action. It's the simplest way to say that. Design is not just about creativity and innovation. It is as much about how perceptive and analytic you are. Be curious and ask why. When I get an assignment, I make for the streets; I see people, feel people, observe how they do things, and watch how they relate to each other. The way of life of people influences the way we design.
I also emphasize the real difference that comes when you take the time to see. When you truly see, you allow your imagination to see more than what is before you. I believe this philosophical sense of looking at one thing and seeing another is the essence of mental and visual exploration.
In the end, I hope my students will to go through life seeing wonderful things.
TAXI >> Is there a specific message that you look forward to share over your presentation at ICOGRADA DESIGN WEEK in SEATTLE?
Sara Little Turnbull>>
Be yourself, in the end that's all you can be. You have to know who you are, how you live, what the differences are, what the similarities are. Then you're dealing on firm ground. You need to respect people for their differences and not turn any of that into a negative tilt; you can learn from the differences. In fact, that's probably the most important part of why I've always traveled. I wanted to know how other people do things, to have a sure-footed comparison. How do we do it, how do they do it, what's good about that, what's bad about that? In my own work, I'm very stimulated by these differences and the magnet-effect of this kind of discovery.
Another key message is that the phenomenon of change is with us at all times. As a designer, you are well advised to evaluate how well you are saying what you mean to say. Take the time out to look up, to look back, to look over and look all around. Before you do anything, you think it out. That is the kind of investigation that will give you an idea of whether you are delving deep enough. One of my favorite quotations, "if you don't stretch, you won't know where the edge is."
Exclusive Highlight on TAXI Design Network
Interview with Darrel Rhea
TAXI >> For over 25 years, you have been a social scientist, designer, advisor to CEOs, Business Week Online columnist and co-author of Making Meaning: The Business of Experience Design, and a frequent speaker to international conferences Having experienced such a wide spectrum of the design trade, how do you see design's relationship to business?

Darrel Rhea>> What is exciting is how design has evolved from being largely a tactical consideration in corporations to being acknowledged as a critical competence for growing and sustaining a business. No longer just part of implementing corporate strategy, design has become integral to the top level strategic conversations in the CEOs office and in the Boardroom. People finally understand that design is how to innovate.
 
TAXI >> Your firm, Cheskin, An Innovation Consulting Firm, guides innovation through deep understanding of people, cultures and change - to learn the psychology of human behavior and anticipate market trends. What kind of effective impact do you think this work has exerted to the mass communities?
Darrel Rhea>>
As one of the very first companies of our type, Cheskin has been instrumental in developing research methodologies that effectively drive the design of products and brands.
Every day, every man woman and child in America -- and in much of developed world -- will interact with a product or brand that we have worked on. Even more, much of the design community throughout the world has employed similar approaches to design research with equally positive results. Clearly, for over six decades Cheskin's touch has been far-reaching and significant.
TAXI >> Is there a specific message that you look forward to share over your presentation at ICOGRADA DESIGN WEEK in SEATTLE?
Darrel Rhea>>
What we all want is a sense of meaning in our lives and in our experiences, including the experiences that we buy. Designers are empathic, and have compassion for who customers, as people, really are. When we do our very best work as designers, we serve others by creating value. And the highest level of value we can provide is when we evoke experiences that are so meaningful to people, that the experiences reinforce the value of their lives.
Making meaning like this should be our industry's standard - not usability, not emotional thrills, not just status, but a sense that "this product or brand was made just for me, that it is so relevant to me that it is part of the story of my life." Only then will we be reaching our potential contribution as designers.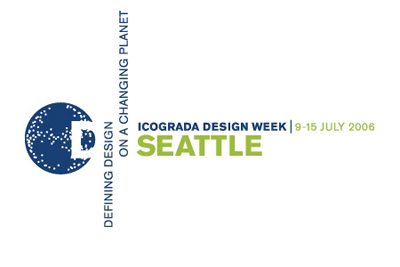 © 2003 - 2007 by TAXI Design Network. All rights reserved.