Taxi Driver by Steve Schapiro
As analogue lovers,
there's no telling in how much we adore film photographs. Seeing one's shots on actual prints and compiled in a book brings visual elation and self-gratification. 'Photos on Pages' is a new series that features photo-books by great photographers. In this first volume, the spotlight is on Steve Schapiro and his exclusive photography for Taxi Driver.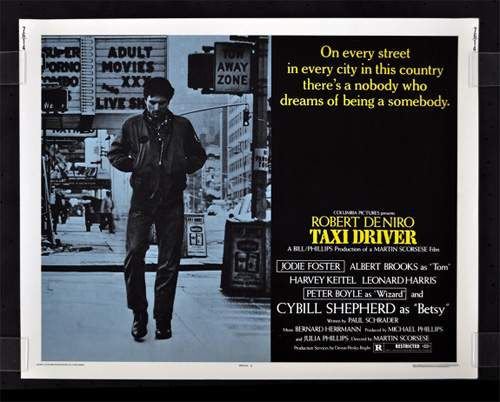 image via cinemasterpieces.com
Featured Book/s:
Taxi Driver and Taxi Driver / The Godfather
Featured Photographer:
Steve Schapiro
Category:
Cinema, Behind the scenes
Publication:
November 2010 and February 2011, respectively
Taxi Driver
is considered to be one of the greatest cinematic masterpieces to date. Filmed in 1976, Martin Scorsese and Robert de Niro merged powers and talent to create a magnificently vicious film, which would influence generations of filmmakers and inspire millions of audience around the globe. Having filmed
Mean Streets
three years earlier, Scorsese and de Niro's tandem conspired effortlessly, and the output became one of the most favorited cult classics of all time.
In the film,
de Niro was portrayed as Travis Bickle, an ex-Marine, trigger-happy cabbie-turned-psychopath with a badass mohawk. The film was set in New York City, where Bickle roamed around her filthy streets with his yellow cab. A 12-year young Jodie Foster, as Iris, starred as a prostitute who works for a pimp played by Harvey Keitel. Scorsese also had a "frightening" cameo appearance in the film as one of Bickle's late night passengers.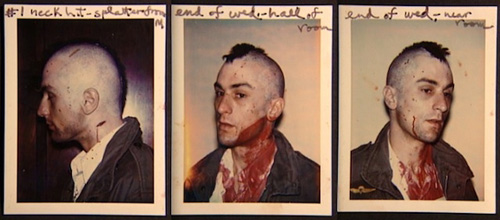 image via aintitcool.com
Taxi Driver
and its cinematography, especially to film buffs, is ever-delightful to watch. Its beginning is ornamented with unfocused, yet mesmerizing city nightlights (what we call bokeh in the photographic realm). The protagonist's first person point of view narration adds eroticism to the plot's evolving and intense violence. Throughout the movie, its musical score opposes the cacophony of the city's "scum"— the melodic saxophone and jazzy drumbeats indicate contradicting emotions and realities. Its entirety is a rattling mixture: crime thriller and noir genres, rolled into a single two-hour reel.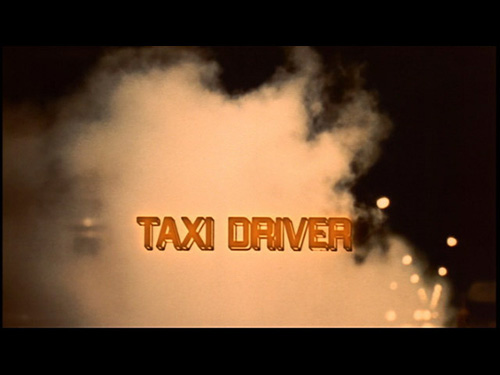 image via annyas.com
This year marks
the 35th anniversary of the iconic
Taxi Driver
. And since it has long been regarded as a cinematic milestone, to immortalize its most momentous scenes, in film photographs and prints, is definitely a must.
A million thanks
to Steve Schapiro—the special photographer on the set of
Taxi Driver
because he captured, not only Travis Bickle's deranged persona, but also the unseen scenarios and the actors behind the director's camera—giving the whole world a chance to get a rare glimpse of Scorsese's ambitious contribution in the paradise of cinema in the form of, not just one but two, amazing photo-books: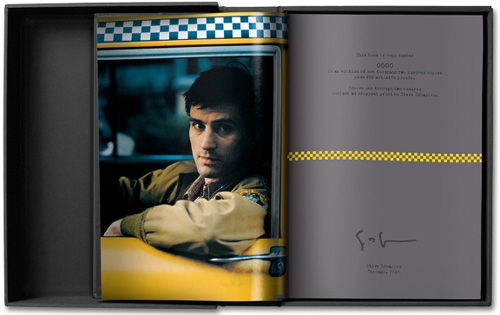 Steve Schapiro © images via taschen.com
Taxi Driver. This 328-page limited edition, hard-bound, clamshell-boxed, signed by Schapiro himself, only has 1000 copies. This book is priceless (graced with a foreword by the genius Scorsese and adorned with the images of a youthful de Niro) and, at the same time, pricey (each book costs US$ 700!). Nevertheless, film aficionados and vintage connoisseurs will definitely go crazy to get their hands and eyes on this gem!


Taxi Driver / The Godfather. Before Schapiro photographed the set of Taxi Driver, he was also the special photographer for Francis Ford Coppola's The Godfather, giving him exclusive access to one of the most amazing cast ever assembled. In this book, the first half contains the seminal stills of Taxi Driver.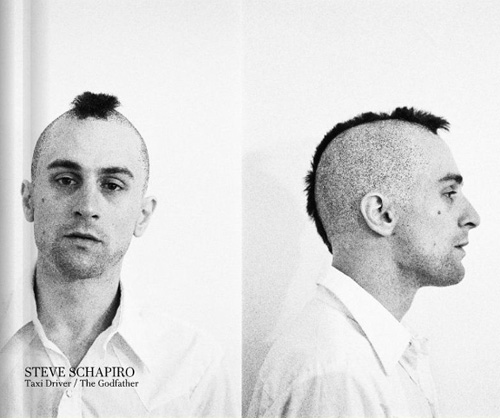 Steve Schapiro © (screenshots via blurb.com)
"Many of the great actors I've photographed maintained their characters persona while the camera was rolling, then quickly dropped back into being themselves upon hearing "cut". Robert de Niro was so intensely into the character of Travis Bickle, both physically and mentally, that I never doubted I was photographing Travis himself, whether the camera was rolling or not."—Steve Schapiro
And don't forget about our
Lomography x DesignTaxi competition
to win prizes.
Written by
basterda
This is a cross-post from
Lomography
.