The Last-Minute Gift Guide For Tastemakers
For those of you
who have yet to pick out a gift for your design- or tech-loving friends,
Tequila Don Julio
—in collaboration with DesignTAXI—has curated a last-minute gift guide to help you '
Elevate Your Holiday
'.
1. The 'Perfect Pencil' by Graf von Faber-Castell
Aspiring writers
and designers will love this pencil by Graf von Faber-Castell. Dubbed the 'Perfect Pencil', it is crafted from Californian cedar, and comes with a platinum-, silver-, or sterling silver-plated extender that also serves as a sharpener, cap and clip.
With a replaceable eraser
located under its cap, the pencil comes with everything needed when it comes to writing or sketching—which makes it entirely functional.
The Perfect Pencil
retails at US$260 on
Amazon
.
2. The 'Handpresso Auto' Espresso Maker By Handpresso
Giving "coffee to go"
a new meaning, Handpresso created an espresso machine for your car.
Called the
'Handpresso Auto', it prepares high-quality espresso in the car with a simple press of a button.
If any
of your friends don't have the time to get a coffee before getting into their cars, this will be the perfect gift for them.
The Handpresso Auto
retails at EU$149 on its official
website
.
3. 'La Sardina 8ball' by Lomography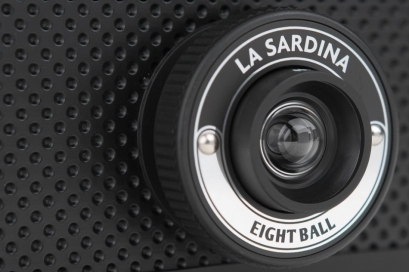 Sophisticatedly dressed
in its textured black coat, the 'La Sardina 8ball' is the sexiest 35mm film camera you can choose to shoot with.
As Lomography's
first standard La Sardina edition, this camera will have you experimenting with wide-angles and multiple exposures from now until forever!
The La Sardina 8ball
is available on
The Bazaar
at US$69.
4. 'Sky WiFi Smartpen' by Livescribe
Livescribe
has designed a pen that records everything its user writes and hears in real-time.
Called the
'Sky WiFi Smartpen', it is able to capture handwritten notes, ideas and diagrams—it even records high-quality audio files and wirelessly syncs all information to the user's online personal Evernote account.
Users can access
their notes using a Mac, Windows, iOS or Andriod unit—and can easily search, playback and share their notes via email, Facebook, Twitter or LinkedIn.
This 'smartpen'
is available on Amazon at US$170 for a
2GB version
and $200 for a
4GB version
.
5. Timeless Tequila Variants: 'Don Julio Blanco', 'Don Julio Reposado' and 'Don Julio 70 Añejo Claro' From Tequila Don Julio
This holiday season
,
Tequila Don Julio
can help you "give the gift that shows you know" with its timeless tequila variants: 'Don Julio Blanco', 'Don Julio Reposado' and 'Don Julio 70 Añejo Claro'.
Using its microsite
, '
Elevate Your Holiday
', you can share how you will be taking your holiday season to the next level.
For a limited period
, fans who register on their
microsite
can submit images through Instagram,
Facebook
, or directly from their desktop or mobile devices, using the hashtag "#showyouknow" and stand a chance to have their photos featured on the
online gallery
.
THOSE WHO KNOW DRINK RESPONSIBLY.
DON JULIO TEQUILA . 40% Alc/Vol. ©2012 Diageo Americas, Norwalk, CT.