Don't miss the latest stories
Share this
Pierce Brosnan Gets Likened To KFC's Colonel Sanders For His New Crispy Mustache
By Izza Sofia, 07 Jan 2020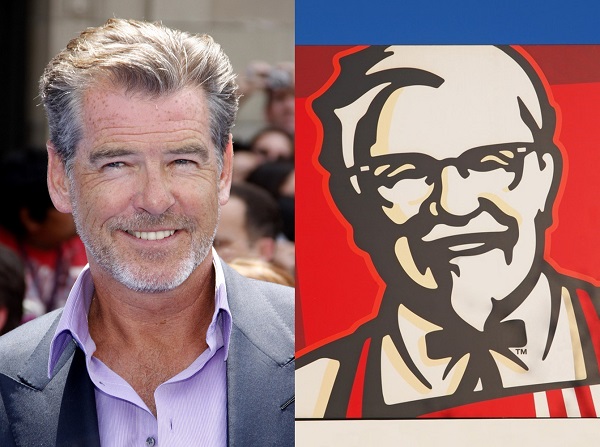 Left image via Tinseltown / Shutterstock.com, right image via Emilio100 / Shutterstock.com
Pierce Brosnan
sent internet users into amusement after appearing at the Golden Globes red carpet with perfectly shaped mustache.
Brosnan, who presented
the award for best motion picture, has Twitter users likening him to KFC's famous mascot Colonel Sanders. His facial hair and coiffed up hair looked strangely similar to the mascot. Brosnan too was wearing a bow tie, nailing the resemblance.
"That's like the
best version of Colonel Sanders," one Twitter user wrote. "When I'm craving for fried chicken, I head right to the source: Kentucky,"
Vanity Fair's
critic Richard Lawson joked.
Other social media
users thought he was suitable to play a villain role in the next
Bond
movie. "Coming soon: Pierce Brosnan as Colonel Sanders in 'Die Another Day'," a user joked.
Brosnan's good looks
have even caught the attention of actor Will Ferrell himself, whom he presented with on stage at the star-studded event. Ferrell interrupted him to say, "My god, you are good looking."
Pierce Brosnan poses with his family at the #GoldenGlobes pic.twitter.com/Fvh9Gn0xu3

— Variety (@Variety) January 5, 2020
Pierce Brosnan has shown up to the Golden Globes ready to disclose the 11 secret KFC herbs and spices pic.twitter.com/5JVP4YgfUI

— Rebecca (@rebtool) January 5, 2020
Pierce Brosnan proves that you either die James Bond or live long enough to look like a Bond villain pic.twitter.com/OMSsAY57cx

— football is a fictional construct (@LeBronMaclean) January 6, 2020
Pierce Brosnan, styled as Sexy Colonel Sanders, is onstage introducing viewers to his Sons

— Scott Wampler™ (@ScottWamplerBMD) January 6, 2020
"Hello, I'm Pierce Brosnan. When I'm craving delicious fried chicken, I head right to the source: Kentucky."

— Richard Lawson (@rilaws) January 6, 2020
Pierce Brosnan will let you hunt someone on his island for $1 million pic.twitter.com/6c0ppWvncu

— Marc (@MarcSnetiker) January 6, 2020
Pierce Brosnan and Colonel Sanders: pic.twitter.com/lqdhSxkcLp

— The Doctor (@Drstevenhobbs) January 6, 2020
Uhm, that's like the best version of Colonel Sanders. Ever.

— Liddle Rapscallion (@demon_helpful) January 6, 2020
Coming soon: Pierce Brosnan as Colonel Sanders in "Dine Another Day" https://t.co/AlqF7J3PAv

— 44inWisco (@44inWisco) January 6, 2020
Petition have Pierce Brosnan cast as the next Bond villain #GoldenGlobes pic.twitter.com/2Ryw2vgGV2

— Viv Heaton (@viv_heaton) January 6, 2020
Will Ferrell is all of us. Pierce Brosnan is ridiculously good looking. #GoldenGlobes pic.twitter.com/hOdgKmzwRn

— Lady Michenley Thornback (@michenley) January 6, 2020
Pierce Brosnan: I had KFC last night

His barber: say no more#GoldenGlobes pic.twitter.com/CJ1VjCKZqq

— 🎄logan🎄 (@loganahyatt) January 6, 2020
[via
Independent
, opening image via
Tinseltown / Shutterstock.com
,
Emilio100 / Shutterstock.com
]
Receive interesting stories like this one in your inbox
Also check out these recent news