Don't miss the latest stories
Share this
15th-Century 'Lamb Of God' Painting Restoration Fills Viewers With Shear Terror
By Mikelle Leow, 21 Jan 2020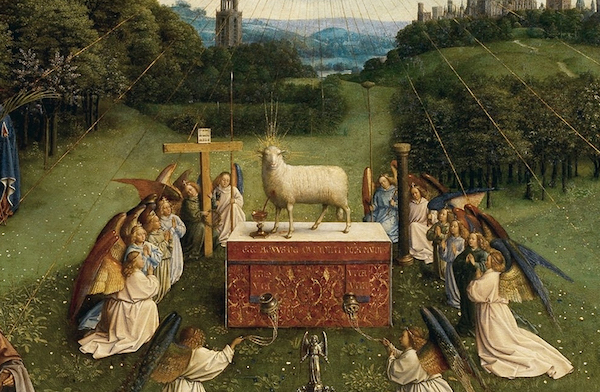 Image via Wikimedia Commons (public domain)
The majestic Ghent Altarpiece
painted by the Flemish brothers Jan and Hubert Van Eyck in the 15th century was so yellowed and layered with overpaintings, restoring it would be a challenging feat. Central to the 12-panel artwork is the
Adoration of the Mystic Lamb
, and while repairing the masterpiece would be expensive, Belgium's Royal Institute for Cultural Heritage (KIK-IRPA) imagined that when there was a wool, there would be a way.
Unfortunately, onlookers
think it's the stuff of baaad dreams.
On 24 January,
the
Adoration of the Mystic Lamb
panel, along with four other segments, will return to its original location at St. Bavo's Cathedral in Ghent, Belgium after a three-year restoration costing €2.2 million (US$2.4 million).
The ambitious project
comprises the painstaking stripping of multiple layers of paint added to the original artworks during the 16th century, according to Christian publication
Aleteia
.
Most apparent
is the recovery of the painting's centerpiece, which depicts the Lamb of God. The revival—which took place at a dedicated laboratory in Ghent's Museum of Fine Arts—reveals that the lamb originally had a more "humanized" face, but the altarpiece was painted over with a more animal-like look in the 16th century.
Hélène Dubois,
who led the facelift, told
The Art Newspaper
that the lamb initially had a more "intense interaction with the onlookers." Researchers are still unsure why the Van Eycks gave the creature this "cartoonish" appearance, since the masterpiece had an accurate naturalistic aesthetic that depicted surrounding plants realistically.
Art historians
and theologians will investigate the reason behind the illustrative interpretation of the lamb, Dubois added.
On social media,
some internet users are appalled by the lingering gaze of the lamb, who was found to be originally portrayed with human-like eyes.
"I don't have
an opinion on this. I don't have an opinion on anything anymore," wrote Father A. Schrenk, a priest from the Roman Catholic Diocese of Pittsburgh.
"Pet Sematary
was right, sometimes dead IS better," another Twitter user responded.
The restoration has
also inspired a flock of memes. Feast your eyes on them below.
Uh, so apparently they restored the Ghent Altarpiece and pic.twitter.com/JljwfEZlzu

— Fʀ. A. Sᴄʜʀᴇɴᴋ (@frajds) January 20, 2020
Just to be clear: the new, terrifying lamb is not a "first draft" or the work of some zealous restorer's imagination. This is what the Van Eycks painted and it wasn't replaced by the more naturalistic lamb for more than a century.

I'm dealing with it too; take it a day at a time

— Fʀ. A. Sᴄʜʀᴇɴᴋ (@frajds) January 20, 2020
Therapist: The uncovered face of the Lamb of God in the Ghent Altarpiece isn't real. It can't hurt you.
The uncovered face of the Lamb of God in the Ghent Altarpiece: pic.twitter.com/RBmm48wN0w

— Dr Eleanor Janega (@GoingMedieval) January 20, 2020
HOW could they manage to make a sheep look judgemental? I mean, it even looks like it has one raised eyebrow.

— well, 'K, then (@Mistsandgrass) January 20, 2020
Why does it have Shrek ears?!

— Matze aus München (@matze_aus_muc) January 20, 2020
that's what's funny tho! this was the original lamb, discovered cos they removed layers of paint while restoring.

— sain➕ jimmy (@inkyswampboy) January 20, 2020
What people think the past was like vs what the past was really like: https://t.co/GMSujtYQip

— Seth Oldmixon (@setholdmixon) January 20, 2020
https://t.co/VWHGt0fVEE pic.twitter.com/cJcSBGLRVa

— *festive* austin (@notyoursweetbab) January 20, 2020
Pet Sematary was right, sometimes dead IS better. pic.twitter.com/VkM8VpZW2i

— ☃️snowy spector🧣 (@schreiraupeee) January 20, 2020
16th century artists: pic.twitter.com/QaGYCu9hPV

— Jordan Dean (Bi thoughts For thots) (@jordansanditon) January 20, 2020
January 20, 2020
January 20, 2020
Lol next you're going to tell me that lions don't look like this pic.twitter.com/wIhFL5gya0

— Fʀ. A. Sᴄʜʀᴇɴᴋ (@frajds) January 20, 2020
[via
@frajds
, images via various sources]
Receive interesting stories like this one in your inbox
Also check out these recent news