Don't miss the latest stories
Share this
Planters Kills Off Mr. Peanut After 104 Years, Other Brands Join In The Roast
By Izza Sofia, 23 Jan 2020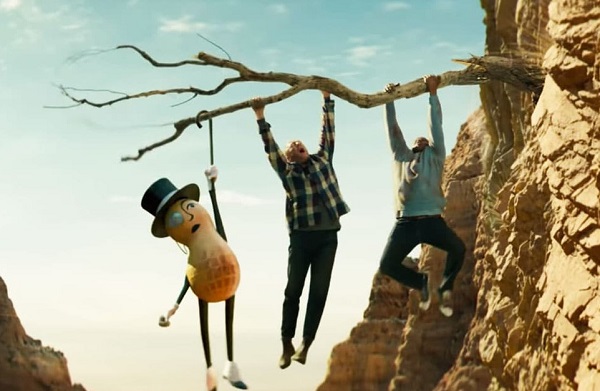 The "world's most
famous legume" is dead.
Mr. Peanut,
aged 104, is known for his top hat, black cane and eccentric monocle. His longtime employer, Planters, has claimed that the famous snack mascot died during a pre-Super Bowl ad.
The ad showed
Mr. Peanut involved in an accident in his Nutmobile, alongside Wesley Snipes and Matt Walsh. The footage showed the trio ended up dangling from a tree branch due to a misadventure from the Nutmobile.
The branch splintered
as it couldn't sustain their weights combined and to save his friends, Mr. Peanut sacrificed himself and let go.
"It's with heavy hearts
that we confirm Mr. Peanut has passed away at 104-years-old," the company announced on Twitter. "He will be remembered as the legume who always brought people together for nutty adventures and a good time."
Fans can "tune
into Mr. Peanut's funeral" during the third quarter of Super Bowl, where viewers are encouraged to "pay respects" to the mascot. However, not everyone is waiting for the game to pay tribute to their favorite nut.
Many took to Twitter
to mourn the death of the legume. "Always classy, always crunchy, always cleaned up nicely," a peanut fan said. "We'll miss him!" "As a kid with a severe peanut allergy, I was raised to fear Mr. Peanut," tweeted another person. "But he always seemed so pleasant and jovial. He will be missed!"
Other brands
such as Budweiser, Skippy and Toyota have taken the opportunity to pay respects to the legume. The beer company shared a video of a cold beer alongside the caption "Pouring out for you" while Skippy gave a toast to him.
Some users however,
took this opportunity to roast the peanut, creating memes that inject humor to its death. Check out the responses below.
It is with heavy hearts that we confirm that Mr. Peanut has died at 104. In the ultimate selfless act, he sacrificed himself to save his friends when they needed him most. Please pay your respects with #RIPeanut pic.twitter.com/VFnEFod4Zp

— The Estate of Mr. Peanut (@MrPeanut) January 22, 2020
he is in hell now. it's brings me no joy to report this. pic.twitter.com/7MgH7fCUQF

— sadvil (@sadvil) January 22, 2020
Nutting in his memory

— Pornhub ARIA (@Pornhub) January 22, 2020
Always classy, always crunchy, always cleaned up nicely. We'll miss him! #RIPeanut pic.twitter.com/wtNQrFerBF

— Mr. Clean (@RealMrClean) January 22, 2020
As a kid with a severe peanut allergy, I was raised to fear @MrPeanut. But he always seemed so pleasant and jovial. He will be missed!

— Mike Berg (@MikeDWBerg) January 22, 2020
These marketing IDIOTS think I'm gonna fall for their obvious "Mr. Peanut is dead" ploy?

They'll have a funeral for Mr. Peanut at the Super Bowl. Here's the thing: he's a nut (legume, I know, but still). His buried body will GROW more peanuts.

This is how the mascot reproduces.

— "Ian" Abramson (@ianabramson) January 22, 2020
Mr Peanut represented the elite. the 1%. He became rich by selling the bodies of his brothers. And now that the life has drained from his body, I can complete my promise to eat the rich.

— Quinton Reviews 🎬 (@Q_Review) January 22, 2020
Mr. Peanut, who wore a monocle and top hat while selling fellow peanuts, was the ultimate capitalist.

— Jonathan "Boo and Vote" Cohn (@JonathanCohn) January 22, 2020
Not to be unsensitive but do y'all think Mr. Peanut is really dead or is it just a marketing stunt. 🤔

— Louis Peitzman (@LouisPeitzman) January 22, 2020
[super bowl cuts to commercial break]

camera slowly pans along a desolate, stony valley. embedded in the hills we see a large boulder. the camera gets closer. the stone slowly begins to move, revealing a tomb. out of the darkness, he appears. it's mr. peanut. he has risen!

— jordan (@JordanUhl) January 22, 2020
Mr. Peanut is in Hell. He spent decades as the smiling face of a company that sold the boiled and roasted corpses of his people as a snack

— Patrick Monahan (@pattymo) January 22, 2020
Open or closed shell funeral?

— dave, airbag man (@airbagged) January 22, 2020
Pouring one out for you @MrPeanut pic.twitter.com/h6uGottNLt

— Budweiser (@budweiserusa) January 22, 2020
Hope you're burning rubber on that great racetrack in the sky. #RIPeanut pic.twitter.com/S242fdu2Ya

— Toyota USA (@Toyota) January 22, 2020
A toast to you @MrPeanut #RIPMrPeanut pic.twitter.com/MRhsFYDnHn

— SKIPPY Peanut Butter (@Skippy) January 22, 2020
[via
The Estate of Mr. Peanut
, opening image via
The Estate of Mr. Peanut
]
Receive interesting stories like this one in your inbox
Also check out these recent news