Don't miss the latest stories
Share this
Lawmaker Chugging From Hershey's Syrup Bottle Sends Internet On A Sugar High
By Izza Sofia, 07 Feb 2020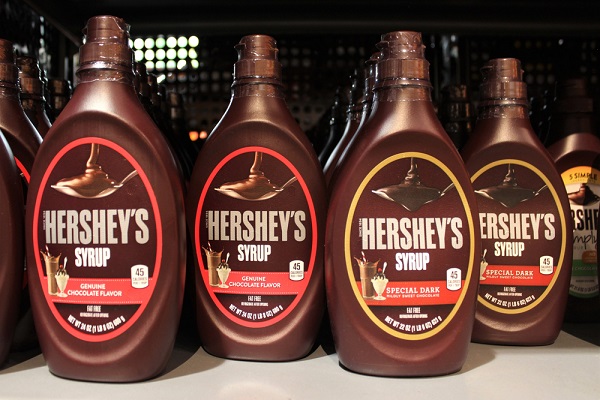 Image via Joseph Skompski / Shutterstock.com
The Tennessean
reporter Natalie Allison tweeted a photo of General Assembly. Rep. Kent Calfee drinking from a Hershey's chocolate syrup bottle last Monday, and the image has inadvertently given Twitter users a sugar rush.
The photo,
shot by photographer
George Walker IV
, went viral on social media after Allison shared it on Twitter alongside the caption, "As he waits for the State to begin, Rep. Kent Calfee takes a swig… from his syrup bottle."
The photo
set Twitter ablaze, with many users presuming that Calfee might have a sweet tooth, or that the lawmaker was using the bottle to hide another kind of drink, like whisky.
"My man getting
his sugar fix might be the best tweet tonight," one Twitter user said in response to the photo. "Whisky flask, most likely," another Twitter user guessed.
However, Calfee
told
TIME
that he wasn't actually drinking chocolate syrup.
The lawmaker explained
that he has been using Hershey's packaging as a water bottle for years, detailing that he and his wife have always been thrifty and believe in recycling their purchases.
As he waits for the State of the State to begin, Rep. Kent Calfee takes a swig of from his Hershey's chocolate syrup bottle, as he often does during #tnleg session. Photo by @Tennessean's @GeorgeWalkerIV. pic.twitter.com/TWPZ8yxbM9

— Natalie Allison (@natalie_allison) February 3, 2020
My man Rep. Kent Calfee getting his sugar fix might be the best tweet tonight. https://t.co/iQGJYKnJS9

— Rep. Jeremy Faison (@JeremyFaison4TN) February 4, 2020
I was today years old when I learned that I had something in common with Rep. Kent Calfee. https://t.co/dD2E40WmCA

— Amanda (@amanda_clelland) February 4, 2020
JFC who broke up with Rep. Kent Calfee? pic.twitter.com/Hf5Da4ylLG

— Bekka (@valhallabckgirl) February 4, 2020
I'll have what he's having

— Sopan Deb (@SopanDeb) February 4, 2020
Whiskey flask, most likely

— Kᴇᴠɪɴ Bᴀɪʀᴅ ᶠʳⁱᴺᵍᴵⁿᵉᴱʳ 🌚🌞 (@KevinBaird) February 4, 2020
i hate the way people are hating on this weirdo. america doesn't tolerate eccentrics anymore. let this deranged man suck his syrup https://t.co/sMNXW1XtIh

— Christopher Hooks (@cd_hooks) February 4, 2020
Pour up, drank, head shot, drank
Sit down, drank, stand up, drank
Pass out, drank, wake up, drank
Faded, drank, faded, drank https://t.co/KEhrLb31qD

— Big Valentines Daddy (@BigTucsonDad) February 4, 2020
i love america https://t.co/OOI5FtdhaW

— Andrew Lowe (@andrewlowe) February 4, 2020
[via
TIME
, opening image via
Joseph Skompski / Shutterstock.com
]
Receive interesting stories like this one in your inbox
Also check out these recent news