Don't miss the latest stories
Share this
Useful Comic On Keeping Safe From Coronavirus Gets Worldwide Attention
By Mikelle Leow, 10 Feb 2020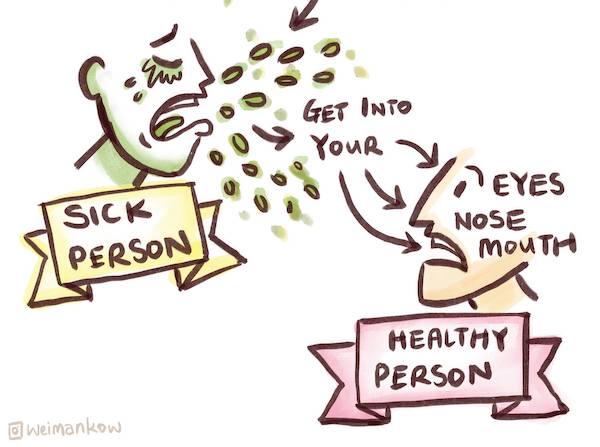 Image by Weiman Kow and featured with permission
The coronavirus outbreak
has sparked a flurry of panic across the world. Much of the danger, however, lies in ungrounded fears and a lack of understanding about the novel coronavirus.
Weiman Kow,
a UX designer and artist, set out to bring more clarity to the situation with a handy infocomic about keeping yourself safe from coronavirus.
In essence,
the comic emphasizes that the virus spreads from person to person when an infected person coughs or sneezes in your face.
To avoid that
from happening, stand 500 centimeters (1.64 feet) to two meters (6.56 feet) away from anyone who is visibly coughing, sneezing or ill, which will prevent large droplets from reaching you.
Kow also illustrated
potential objects to keep your eye out for that could carry the virus should an infected person's saliva get onto them. These include handles on public transport, digital devices, elevator buttons, doorknobs and staircase bannisters.
It's also recommended
to stay away from crowded areas, as someone might be infected even if symptoms aren't visible.
The comic has
captured the attention of educators, healthcare professionals, libraries and offices around the world.
Kow tells DesignTAXI
that, in response to her work being picked up as educational material, she has created
printable A4 versions
of the infocomic—including one in
coloring sheet form
—so people can share it for free.
View the comic
below, and visit Weiman Kow's
Facebook
and
Instagram
to see more of her work.
[Images by
Weiman Kow
and featured with permission]
Receive interesting stories like this one in your inbox
Also check out these recent news