Don't miss the latest stories
Share this
Bank Gets Ripped For Putting Harriet Tubman In 'Wakanda' Pose On Cards
By Izza Sofia, 14 Feb 2020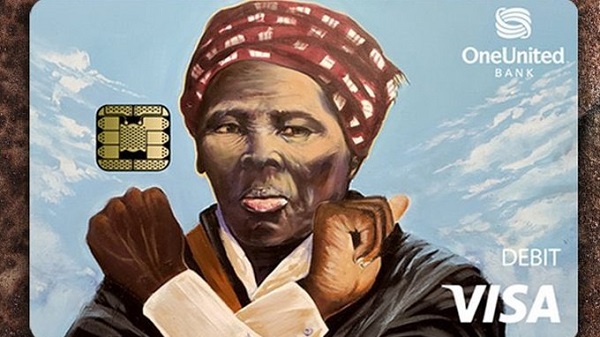 OneUnited Bank
decided to honor Black History Month by releasing a Visa debit card featuring an image of abolitionist Harriet Tubman.
America's largest
black-owned bank took to social media to announce the card, branding it "a symbol of Black empowerment." President and COO of One United Bank Teri Williams told
Yahoo
that placing Tubman on a global payment device was paving the way for the "Harriet Tubman design on the US$20 bill."
The image
on the card is an artwork from
Addonis Parker
called
The Conqueror
. While the painting is honorable, Twitter users couldn't help but notice that Tubman was seemingly in the "Wakanda Forever" salute from
Black Panther
.
Social media users
had a field day poking fun at the design, with one Twitter user stating, "Do you think Harriet Tubman was walking around saluting Wakanda while she was taking slaves to freedom?"
The bank
was quick to clear the controversy, and justified that the Wakanda salute was mere coincidence. It also explained that Tubman was actually depicted in a pose symbolizing love in sign language.
"Harriet Tubman is
the ultimate symbol of love. The gesture is the sign language symbol for love. It's so important that we love ourselves," the bank wrote in a tweet.
Our limited-edition Harriet Tubman Visa Debit Card is a symbol of Black empowerment. Don't miss out! #GetTheCard today! #HarrietTubman #BlackHistoryMonth #BankBlackhttps://t.co/LWbOmRjNcy pic.twitter.com/okLTuJskXC

— OneUnited Bank (@oneunited) February 13, 2020
DO YOU THINK HARRIET TUBMAN WAS WALKING AROUND SALUTING WAKANDA WHILE SHE WAS TAKING SLAVES???? TO FREEDOM? https://t.co/1yhWavQy0m

— marv (@ofstarvinmarrv) February 13, 2020
When I pull my Harriet Tubman VISA out my wallet at a racist location pic.twitter.com/14m8NhnPi3

— Al-Shabazz (@shabazz_jab) February 13, 2020
Harriet Tubman wasn't smiling cause wasn't shit funny

— Kween Kni👑 (@Kni_TheKween) February 14, 2020
Instead of Harriet Tubman doing the Wakanda Salute how about an image of reaching out to give a helping hand?

Any thoughts? pic.twitter.com/9m0yZFLUMy

— cameron grant (@icamerongrant) February 14, 2020
*Escape* high interest fees with our new Harriet Tubman Visa card pic.twitter.com/TZvwmKctjQ

— Pastor Juanita Rent-um (@seelolago) February 14, 2020
When I pull out my Harriet Tubman Wakanda Visa Card at Cracker Barrel pic.twitter.com/iqOCvbSrz7

— Mr. New Era (@iJkiddRox) February 14, 2020
February 13, 2020
"Wakanda forever"- Harriet Tubman https://t.co/FWpYuwbk81

— Trilly X (@TylerIAm) February 13, 2020
I'm getting this card and all of my future transactions will go down like this:

"And how will you be paying for this, ma'am?"

"It depends. Wakanda payment methods do you accept?"

Slams down Harriet Tubman Wakanda Card. 😁 pic.twitter.com/2eLraOvBK4

— Dr. Victoria Dooley (@DrDooleyMD) February 14, 2020
Harriet Tubman is the ultimate symbol of love - love that causes you to sacrifice everything, including your own life. The gesture is the sign language symbol for love. It's so important that we love ourselves.

— OneUnited Bank (@oneunited) February 13, 2020
[via
The Source
, opening image via
One United Bank
]
Receive interesting stories like this one in your inbox
Also check out these recent news