Don't miss the latest stories
Share this
Birdlike Skull Of 'Smallest Known Dinosaur' Found In 99-Million-Year-Old Amber
By Izza Sofia, 12 Mar 2020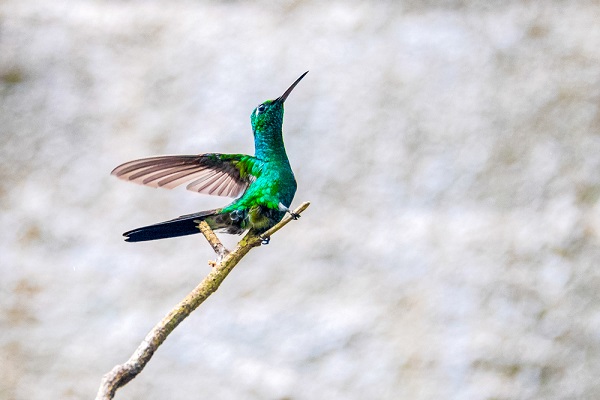 Image via Shutterstock
Remains of
the "world's smallest dinosaur" have been found in a 99-million-year-old amber in northern Myanmar.
Researchers discovered
a skull belonging to a bird-like species called Oculudentavis khaungraae, measuring about half an inch long.
Based on the specimen,
researchers created a computer-generated image of the dinosaur, which weighed an ounce and measured approximately two inches-long, "smaller than a bee hummingbird."
It might have
also had 100 sharp teeth and lizard-like eyes, based on the resin. Its teeth are said to have sharp ridges on the edges, suggesting that it was likely to have feasted on insects.
The creature's eyes
bore similarities to that of a lizard, and with a narrow opening, it indicated that the creature was active in the day.
According to Jingmai O'Connor,
senior professor at Institute of Vertebrate Paleontogy, "there's nothing alive like this today." O' Connor has never seen anything like this, and the discovery "blew" his mind.
The excavation proves
that dinosaurs weren't always the huge creatures believed to have walked the earth, and were more diverse than fossil records had indicated.
Scientists have discovered what they say is the smallest known dinosaur.

The specimen, from northern Myanmar, consists of a bird-like skull trapped in 99-million-year-old amber. https://t.co/EyM1f5X7GN pic.twitter.com/KeNmLo3SiE

— Ticia Verveer (@ticiaverveer) March 11, 2020
My latest: a blob of amber less than 1.5 inches wide holds the skull of the smallest known Mesozoic dinosaur, a critter as tiny as the smallest living hummingbirds. Meet Oculudentavis: https://t.co/fkqNYhrzrL

— Michael Greshko (@michaelgreshko) March 11, 2020
[via
Independent
, opening image via
Shutterstock
]
Receive interesting stories like this one in your inbox
Also check out these recent news