Don't miss the latest stories
Share this
Triscuit Confirms Origin Of Name That Has Nothing To Do With The Number 3
By Mikelle Leow, 27 Mar 2020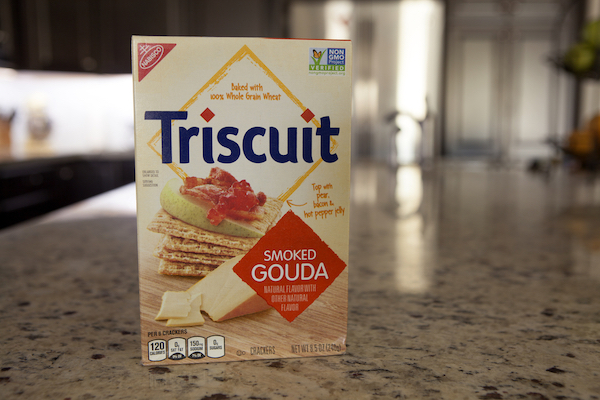 Image via JJava Designs / Shutterstock.com
What's cracking
on the internet? Well, it seems that people are having their minds blown by how Triscuit supposedly got its name, and it appears that it has nothing to do with the number three.
The "-cuit" part
is self-explanatory—it's short for "biscuit"—but for decades, customers probably assumed the "Tri-" prefix stood for something to do with three ingredients or layers.
Not letting
this mystery remain unsolved, writer Sage Boggs reached out to Nabisco for clarification on the name. Oddly enough, the company replied that "no business records [about the naming] survived," but was sure that "the 'TRI' does not mean three."
"How do they know
what it DOESN'T mean, but NOT know what it DOES mean?" a frustrated Boggs pondered. Others suggested that since Triscuit crackers are made of wheat, they could be named after the Spanish word for the ingredient, which is "trigo."
Bogg thus took
it upon himself to deep-dive into Triscuit's history, and found ads and press releases for the pantry staple in 1903.
"Triscuit is baked
by electricity, the only food on the market prepared by this 1903 process," a writeup read. One illustrated ad of the Niagara Falls declared that the crackers were "the electric baked biscuit" and "baked by electricity."
"Elec-TRI-city biscuit,"
Boggs exclaimed. "Triscuit means 'ELECTRICITY BISCUIT'."
Unconvinced by
this electrifying revelation? Triscuit itself finally confirmed the association. "We had to go all the way up the ladder but we CAN confirm," it tweeted.
Here's another
snack fact that has left people torn: Oreo
refuses to assign a color
to its cookies, and they are neither officially brown nor black.
OK, buckle up. I wanna talk to you about Triscuit. pic.twitter.com/Tg7334OSbc

— Sage Boggs (@sageboggs) March 26, 2020
The consensus was that "TRI" means three. Maybe "three layers" or "three ingredients." No one knew for sure, though, so I Googled it. But here's the thing -- Google didn't seem to have an official answer, either. Just more guesses.

— Sage Boggs (@sageboggs) March 26, 2020
"The "TRI" does not mean 3." How... how do they know what it DOESN'T mean, but NOT know what it DOES mean? HOW??

— Sage Boggs (@sageboggs) March 26, 2020
I was baffled. And I couldn't stand not knowing. So I did a little sleuthing online, and stumbled on some early Triscuit advertisements. Take a look at these bad boys: pic.twitter.com/jbeBUmjeCF

— Sage Boggs (@sageboggs) March 26, 2020
Elec-TRI-city Biscuit

TRISCUIT MEANS "ELECTRICITY BISCUIT"

— Sage Boggs (@sageboggs) March 26, 2020
We had to go all the way up the ladder but we CAN confirm ⚡️ https://t.co/yFWWL3MjX3

— Triscuit⚡️ (@TheRealTriscuit) March 26, 2020
[via
Newsweek
, cover image via
JJava Designs / Shutterstock.com
]
Receive interesting stories like this one in your inbox
Also check out these recent news