Don't miss the latest stories
Share this
Andrew Cuomo's Supposed Nipple Piercings Are Internet's New Favorite Mystery
By Thanussha Priyah, 01 Apr 2020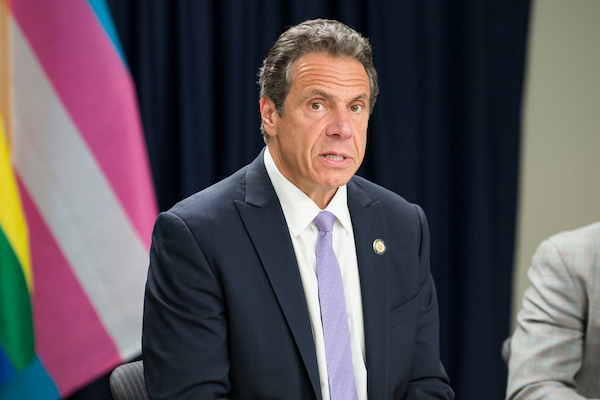 Image via David McGlynn / Shutterstock.com
It all started
with
MSNBC
producer
Kyle Griffin
tweeting out an article from
The Washington Post
about how governors are combating the coronavirus outbreak. However, the photo used for the post sparked curiosity among internet users, who fixated on Andrew Cuomo's nipples and the possibility if they were pierced.
Cuomo was seen
in a white polo T-shirt tightly pressed against his chest, inadvertently showcasing the protrusion of his nipples or alleged piercings. Many pointed out that the sight was incredibly distracting.
Gabrielle Bluestone, producer
of
Fyre
on Netflix,
confessed
that she needed to clear her search history immediately after stumbling across Cuomo's infamous photo.
No one knows
for sure whether the governor's nipples are pierced or not, as the now-notorious photo could possibly be a result of unfortunate lighting. However, the internet had a field day making commentaries surrounding the idea.
Here are some
of the best tweets.
Gov. Inslee responded to Trump's comments that some governors are not grateful enough for federal assistance: "I don't recall, in the oath of office, saying, 'I'll do my job to protect the citizens of Washington state as long as I get enough love.'" https://t.co/EC7l5FsJN7

— Kyle Griffin (@kylegriffin1) March 29, 2020
I thought this tweet was a joke but now I'm genuinely curious + really need to scrub my search history https://t.co/lEVujXKni7 pic.twitter.com/P7vWXVSiBN

— Gabrielle Bluestone (@g_bluestone) March 29, 2020
every time i think my brain cant get any worse something like the phrase "andrew cuomo nipple ring" comes along https://t.co/D9raBs91O8

— Katherine Krueger (@kath_krueger) March 30, 2020
Andrew Cuomo looked disgusting--nipple piercings protruding--in his white shirt before Emergency Room Physicians. Very very disrespectful. pic.twitter.com/4EAWGaUaxL

— windsurfing with Sting in Montserrat (@alexjs85) March 30, 2020
Gov. Inslee responded to Trump's comments that some governors are not grateful enough for federal assistance: "I don't recall, in the oath of office, saying, 'I'll do my job to protect the citizens of Washington state as long as I get enough love.'" https://t.co/EC7l5FsJN7

— Kyle Griffin (@kylegriffin1) March 29, 2020
If Andrew Cuomo can be governor of New York with pierced nipples I can 100% be mayor of Omaha with a nose ring! pic.twitter.com/16Mm2q7Z9P

— Caleb Salvatore (@AnarchyDotGov) April 1, 2020
[via
PAPER Magazine
, cover image via
David McGlynn / Shutterstock.com
]
Receive interesting stories like this one in your inbox
Also check out these recent news