Don't miss the latest stories
Share this
Photojournalists Establish Guidelines For Publications To Follow Amid COVID-19
By Izza Sofia, 02 Apr 2020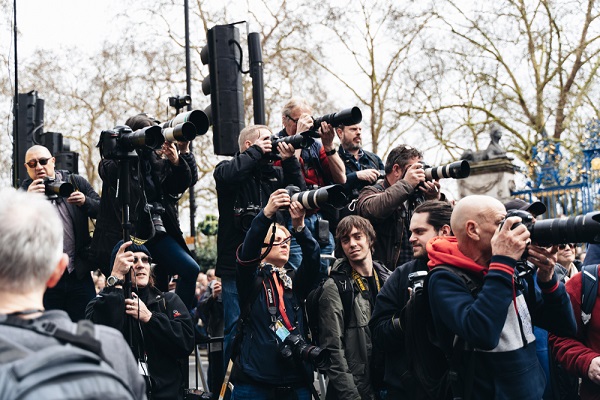 Image via Sandor Szmutko / Shutterstock.com
Photojournalists are speaking
out about the the risks they have faced as they continue to create visual content for the world during this uncertain period.
Photographers from
Juntos Photo Coop
, which consists of
Noemí González
,
Laura Saunders
,
Ash Ponders
and
Caitlin O'Hara
; have voiced out their concerns towards inadequate resources and protection given by publications while they risk their lives to create content.
The professionals
have released an
open letter
seeking "an equitable industry and a set of baseline standards that will improve safety and ensure dignity for all journalists risking their health to document the current COVID-19 pandemic."
Some of the expectations
in the letter include building "the cost of PPE into the cost of hiring freelancers," having a "long term plan of quarantine and sanitation harm reduction," and paying freelancers day rates for "the duration of any sickness. For the full list of guidelines,
click here
.
According to photojournalist
Melissa Lyttle
, it is important for editors and publications to follow these criteria, as many photojournalists have reached out to her to express that they are afraid of putting their lives at risk while going out to do what they love for a living.
According to some
of the messages she has received, publications have been offering little protection to photojournalists, who are afraid they might contract the virus, or worse, pass it on to their families once they return home.
Only some organizations
have purportedly looked out for their photographers, and these include
Reuters
, which provides protective gear to them.
"We call on our fellow
freelancers to come together, raise the standards of our industry, and ensure that we are truly protecting and supporting one another at a time where it is more critical than ever," Juntos writes.
You might be asking yourself why editors & publications need to follow guidelines like the ones Juntos Photo published. https://t.co/MBWDBFccA1

Based on the DMs and emails I've gotten in the last few weeks, I'm going to share some things photojournalists have been told. /Thread

— ǝlʇʇʎl ɐssılǝɯ (@melissalyttle) March 28, 2020
"We have not been offered masks or gloves. In my position, as an intern, I don't have benefits and won't get paid if I stop working and I'm immunocompromised. Culture is to do what you're told without asking questions because editors are too busy." /4

— ǝlʇʇʎl ɐssılǝɯ (@melissalyttle) March 28, 2020
"I'm a photojournalist and have been told basically this is my job. I have never backed down from an assignment of any kind. This I'm terrified of. I have 2 children, and I'd like them to have me around. I love my job but I'm given no choice. Honestly, I'm scared to death." /5

— ǝlʇʇʎl ɐssılǝɯ (@melissalyttle) March 28, 2020
When questioning the safety of a situation on a given assignment the photo editor told the photographer that they will "find someone else who will do it." /6

— ǝlʇʇʎl ɐssılǝɯ (@melissalyttle) March 28, 2020
"XXX will have me go to 3 different places on a normal day and I asked if they were going to be changing that for lower exposure. The editor was like "we gave you masks." They gave me 4 masks but who knows how long we have to keep those going and it's not exactly bulletproof." /9

— ǝlʇʇʎl ɐssılǝɯ (@melissalyttle) March 28, 2020
"I got bullied to going back out into NYC to shoot video. I told the editor that they should just tell me what specifically they wanted because I have a family & wasn't comfortable going back into the city for that day rate. She called me negative & hung up the phone on me." /12

— ǝlʇʇʎl ɐssılǝɯ (@melissalyttle) March 28, 2020
A freelancer told me that Reuters was providing PPE and a rental car for jobs in NYC so that the photog didn't have to take public transportation. Gotta work with those who have your back.

— Allen Murabayashi (@allen3m) March 29, 2020
Reuters has also been the only agency (that I'm aware of) that has emailed out safety guidelines and advice for how to properly protect yourself on assignment AND best practices to keep your gear and PPE sanitized between assignments.

— Elijah Nouvelage (@wanderinghome) March 29, 2020
[via
PetaPixel
, opening image via
Sandor Szmutko / Shutterstock.com
]
Receive interesting stories like this one in your inbox
Also check out these recent news