Don't miss the latest stories
Share this
'Money Heist's Flooded Vault Scene Was Absolute Hell For Digital Retouchers
By Mikelle Leow, 07 Apr 2020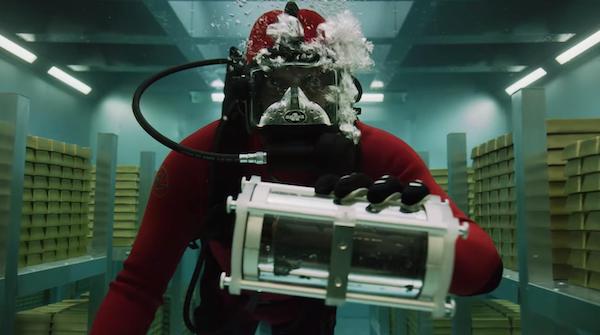 Image via IMDb
Fans of
La Casa de Papel
, or
Money Heist
in English, will surely remember the gold vault scene in part three. The stuff of action films, the vault is built to be filled with water from down-up if anyone tries to enter it.
As it turns out,
the lofty security measure does exist in the Bank of Spain, and
Money Heist
's version pays homage to it. The bank purported that since the gold vault's completion in the 1930s, no one has made an unauthorized attempted to enter it, according to
BloombergQuint
.
Understandably, the reel version
isn't as thoroughly designed as the original, but setting it up was nonetheless a hair-pulling nightmare for everyone from start to post-production, as revealed in Netflix's new
Money Heist: The Phenomenon
documentary.
The production team
described the filming of the vault scene at Pinewood Studios' underwater tank as one of the "most unfortunate days." Art director Abdón Alcañiz called it "a learning curve full of mistakes."
First, the crew had
to carry the entire set from Madrid, including the gold bars, which were filled with—sorry to burst your bubble—foam. They then constructed the whole scene on the water, and then submerged the set to simulate the water rising from the bottom.
As complex as
the process seemed, the trouble happened the following day, as the "gold bricks" started to separate and float, so everyone present had to improvise and drill the bars together. The shelves holding the ingots were also rusting at this point, so the crew had to experiment with various liquids to keep them looking "polished."
Having been submerged
eight feet underwater, the gold bricks unexpectedly began to shrink as filming resumed. "We'd been working on these for months," Alcañiz said. "And now they're not gold, they're raisins."
The footage might
look alright to viewers, since it's a fairly short scene, but the production crew was put off by how some of the gold bars looked bent from all the water pressure—so they tasked the digital effects team to retouch almost every brick in each frame. In total, they had to airbrush "over one thousand ingots."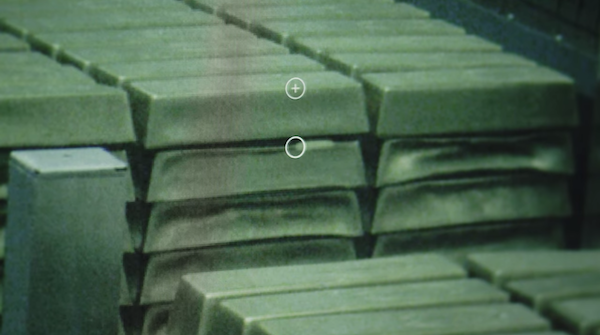 Video screenshot via Netflix
"I think
the digital effects team will remember us," screenwriter Esther Martínez Lobato remarked.
Javier Urosas,
supervisor of VFX for
Money Heist
, described, "Let's say we lost a lot of sleep during that process." However, the effort would all be worth it, and as fellow screenwriter said, "I believe those images are what make all the difference."
The incredible end result
can be seen in the video below.
Money Heist: The Phenomenon
, which takes you behind the scenes of the Emmy-winning series, is now streaming on Netflix.
[via
Netflix
, cover image via
IMDb
]
Receive interesting stories like this one in your inbox
Also check out these recent news