Don't miss the latest stories
Share this
Face Mask Designed To Let You Eat Without Removing It Appalls The Internet
By Mikelle Leow, 20 May 2020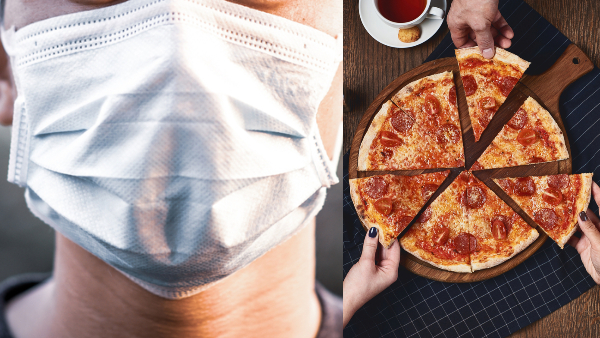 Image via Shutterstock and Shutterstock
In addition to
dining rooms being shut off to discourage patrons from eating out, wearing a mask makes it incredibly inconvenient to dine anywhere outside of your own home. To make having meals outside a little easier, Israeli inventors have designed a version that lets you eat without removing your face mask.
The innovation was
brought to the attention of the internet after Dallas Fort-Worth's
NBC DFW
introduced it in a news report along with footage of a man demonstrating the meal-friendly face mask.
The mask,
coined as a 'Pac-Man' mask, comes attached to a lever that, when squeezed, opens a hole in the middle of the garment, so the wearer can "dine out with friends" without having to take the mask out.
The news anchor
who made the report even disclaimed, "Let's see if I can get through this without laughing."
For apparent reasons,
social media users are raising their eyebrows at the amusing invention. Many have questioned the idea of leaving your mouth exposed during meals with friends, as saliva droplets might escape and potentially infect peers should the wearer be a coronavirus carrier, making the mask redundant in the first place.
"We aren't intelligent
enough to deserve a longer existence," tweets Chad Prather, who ironically is a motivational speaker.
"Well, we had
a good run," YouTuber Sydney Watson replies. "Asteroid, now."
A recent
black light experiment
revealed just how rapidly a virus can spread in a restaurant, so until the
COVID-19 situation
eases, it'd be best to have your meals at home.
We put holes in the parachute so you can land faster

— The Guillotine Shouter (@guillotineshout) May 19, 2020
Account: I know it's a tough ask, but just have fun with it.

Creative: https://t.co/05XGjdSrdO

— R/GA (@RGA) May 19, 2020
May 19, 2020
May 19, 2020
May 19, 2020
May 19, 2020
We aren't intelligent enough to deserve a longer existence.

— Chad Prather (@WatchChad) May 19, 2020
May 19, 2020
[email protected] (@TheGlare_TM) May 19, 2020
May 19, 2020
[via
NBC DFW
, images via
Shutterstock
and
Shutterstock
]
Receive interesting stories like this one in your inbox
Also check out these recent news