Don't miss the latest stories
Share this
Trump's Team Proclaims Trademark Misuse On Cartoon Of Him Serving Fans Clorox
By Mikelle Leow, 29 May 2020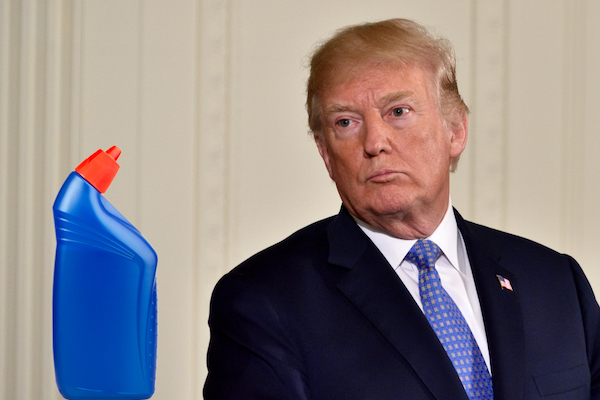 Image via Evan El-Amin / Shutterstock.com and Shutterstock
US president Donald Trump's
suggestion to
ingest disinfectant
as a cure to
coronavirus
was natural fodder for an
avalanche of memes
. It was a remark even Pulitzer-winning cartoonist Nick Anderson couldn't resist caricaturing.
In his drawing
titled
The Trump Cult
, Anderson portrays POTUS serving purple liquid to a group of zealous MAGA hat-wearing fans out of a vat. The words, "Kool-Aid" and "chloroquine," are canceled out on the container and are replaced with "Clorox."
Aside from
being in reference to Trump's infamous remark, the image brings to mind the 1978 crime by cult leader Jim Jones who had poisoned over 900 people with cyanide-laced Kool-Aid.
The artist uploaded
his cartoon on online print-on-demand retailer
Redbubble
to be sold on stickers, posters, face masks, mugs, and more, on 17 May. However, it was taken down by the site less than 24 hours later, along with an email to Anderson noting that someone had filed a complaint against the work.
"We're sorry,
but we had to remove some of your artwork from the Redbubble marketplace because it may contain material that violates someone's rights," stated Redbubble's message, which was obtained by the
Daily Cartoonist
.
We live in a strange time when the #POTUS can falsely accuse someone of murder with impunity (violating @Twitter's terms of service), while at the same time bully a private business into removing content it doesn't like. #Orwellian @JoeNBC @jaketapper https://t.co/jfrKjbqaFc

— Nick_Anderson_ (@Nick_Anderson_) May 26, 2020
Redbubble said
it had investigated and found the material pointed out by the "owner of the rights," who was labeled as "Donald J. Trump for President, Inc."
Anderson shared on
the
Daily Kos
that he could only assume that Trump's re-election campaign team was citing his depiction of MAGA hats as trademark infringement, which he thought was "absurd" since the First Amendment protects satire and caricature.
The illustrator
filed an appeal but heard back from Redbubble that the artwork would not be republished on the site.
He then alerted
the Comic Book Legal Defense Fund (CBLDF), a nonprofit that handles legal disputes on behalf of cartoonists, of the dispute, who wrote to Redbubble detailing Anderson's First Amendment rights and the freedom-of-speech stance that Trump so often claims to endorse.
The cartoon was
finally reinstated on 27 May, and Redbubble
replied
that it wanted to "respect IP rights and freedom of speech, but we sometimes make mistakes, as we did here."
Charles Browenstein,
executive director of CBLDF, responded that the nonprofit hopes the website "will continue to assert the First Amendment rights they and their sellers are guaranteed by rejecting any similar censorship attempts."
The Trump cult now has a great place to store their Kool-aid 😆
https://t.co/fxr9LTRLp7 pic.twitter.com/jfqaXUXRmv

— Nick_Anderson_ (@Nick_Anderson_) May 28, 2020
Definitely belongs on a mask:https://t.co/Qb9mRpGMs5

— Nick_Anderson_ (@Nick_Anderson_) May 28, 2020
President Trump's campaign issued a complaint causing the removal of Nick Anderson's political cartoon from @redbubble. Today, we're leading a coalition calling on Redbubble to affirm its commitment to the First Amendment and reinstate Mr. Anderson's work. https://t.co/g3DXeNggbr pic.twitter.com/01YSnm9VWS

— CBLDF (@CBLDF) May 26, 2020
The First Amendment protects Mr. Anderson, Redbubble, and any other merchant providing a platform to publish parody, critique and satire of public officials. We strongly urge Redbubble to reinstate Mr. Anderson's work. Read our full response here: https://t.co/g3DXeNggbr

— CBLDF (@CBLDF) May 26, 2020
Victory! Thanks to CBLDF and our coalition partners, Redbubble has restored @Nick_Anderson_ 's cartoon to their site! We applaud Redbubble for restoring the work and urge them to reject any other attempts by political campaigns to suppress protected speech https://t.co/Yp3nmpnP8E pic.twitter.com/8lShv4rbjp

— CBLDF (@CBLDF) May 27, 2020
[via
Business Insider
, images via various sources]
Receive interesting stories like this one in your inbox
Also check out these recent news