Don't miss the latest stories
Share this
Why Posting Black Boxes With '#BlackLivesMatter' Tag May Do More Harm Than Good
By Mikelle Leow, 03 Jun 2020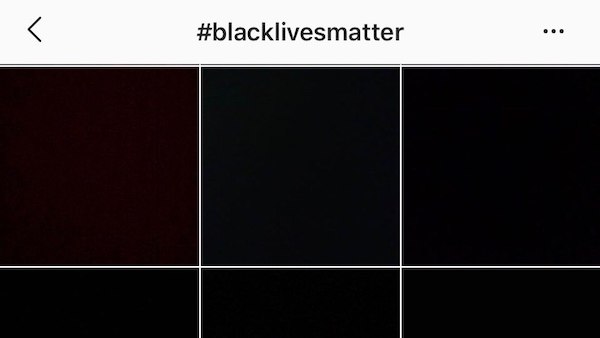 Screenshot via Instagram
On Tuesday,
Instagram users saw their feeds go dark, as several were posting black tiles to call for racial equality and mourn the
loss of black people
whose lives were unfairly cut short by prejudiced law enforcers.
The Blackout Tuesday
movement also encouraged supporters to disconnect from social media and stop posting anything else for a day.
As well-intended
as the initiative might be, many activists dissuaded against following the trend as it'd be counterproductive, seeing as how Blackout Tuesday was supposed to be a day for raising awareness about racial injustice and police brutality. By flooding feeds with black squares, they'd possibly drown out meaningful information about the Black Lives Matter cause.
People who wanted
to contribute were advised not to accompany the black boxes with the "#BlackLivesMatter" hashtag, as it could be used as a productive tool to disseminate useful messages and updates about the protests, as well as educate the public about the situation in the US.
Black Lives Matter supporters
also pointed out that by inundating the platform with black squares and taking some time off social media, people would be muting black voices and limiting access to credible news sources covering the movement.
"It is intentionally
and unintentionally hiding critical information we are using on the ground and online," wrote sociology PhD candidate Anthony James Williams.
Taking to her
Instagram stories, singer Kehlani expressed, "Its execution doesn't seem smart. We keep each other informed on here, we are each other's news channels… We cannot disappear for a day… Now when you check the #BlackLivesMatter hashtag, it's no longer videos, helpful information, resources, documentation of the injustice, it's rows of black screens."
Some lamented
that taking part in the social media initiative wouldn't do anything to help the cause. "It's literally participating in an Instagram challenge and doing the bare minimum," Twitter user @lilsasquatch66 wrote.
"My IG feed
is full of black boxes, but I've not seen about 70-percent of those accounts post a single helpful image or useful resource on their stories," another user reminded. They also called the move, "purely performative."
"So easy to post
a black square," model Emily Ratajkowski responded. "I'm seeing people who haven't posted in YEARS come on to post a black square. Your silence was embarrassing and now you can feel good about yourself while doing the bare minimum."
For those with
genuine intentions to help out, Bianca Lee Garcia, social media manager behind beauty brand Glossier, has
posted a guide
on how to truly support the Black Lives Matter campaign. For instance, internet users can select a nonprofit to donate to via
this site
, as well as keep in mind that fighting for racial equality isn't just a one-day effort.
This is counter-productive. Please understand what ur doing before u do it. Amplify black voices WITHOUT silencing the movement pic.twitter.com/pahDbXnYOO

— 💲🤍 (@makeupbyshaniah) June 2, 2020
stop posting black squares under the #BlackLivesMatter hashtag on Instagram. it is intentionally and unintentionally hiding critical information we are using on the ground and online. pic.twitter.com/EIS44aDXXd

— y'all don't read the room 🥴 (@anthoknees) June 2, 2020
please listen to kehlani pic.twitter.com/sBeOjVItbJ

— dani (@kordeilogy) June 2, 2020
So easy to post a black square. I'm seeing people who haven't posted in YEARS come on to post a black square. Your silence was embarrassing and now you can feel good about yourself while doing the bare minimum. This is the worst kind of virtual signaling. (1)

— Emily Ratajkowski (@emrata) June 2, 2020
Reminder that posting a black square on Instagram but NOT signing any petitions and NOT donating when you have the money to is not "activism" in any way. It's literally participating in an Instagram challenge and doing the bare minimum. Do more and do better.

— Lil Sasquatch (@lilsasquatch66) June 2, 2020
Don't use the Black Lives Matter tag on your IG posts if you're doing that black square thing. The algorithm is already fucked and it's now the only thing anyone can see. It has essentially made it impossible to find information / fundraisers / highlight Black voices. pic.twitter.com/KqpeY7n3dr

— Rosie Knight (@RosieMarx) June 2, 2020
[via
Nylon
, cover image via
Instagram
]
Receive interesting stories like this one in your inbox
Also check out these recent news