Don't miss the latest stories
Share this
Bratz Dolls CEO Releases Scathing Tweets After Influencer Decries Plagiarism
By Izza Sofia, 24 Jun 2020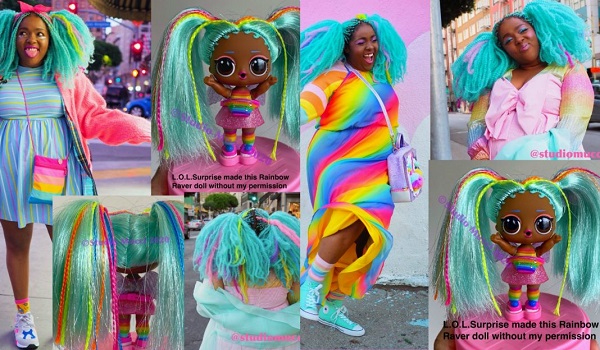 Image via Amina Mucciolo
The CEO
of Bratz and LOL Surprise dolls has called out a black influencer and threatened to sue her after she had accused the company of stealing her image.
Influencer Amina Mucciolo,
who is also known as @studiomucci, claimed that the 'Rainbow Raver' doll was modeled after her likeness without her permission. She tweeted that she was looking for a lawyer, before MGA Entertainment CEO Isaac Larian came after her in a series of messages.
Mucciolo told
BuzzFeed News
that she was alerted by her followers who asked if she knew she had been made into a doll. The toy embodied the "exact replica of her hairstyle" donned for her 35th birthday, she alleged.
"It was aqua
with rainbow highlights, and it was shocking because the hairstyle was the result of my imagination and leftover hair I had from the previous style I wore," Mucciolo described.
She added
that she didn't have "a visual reference" for it, and it was therefore "disturbing" to see her vision duplicated into a toy she "had no part in creating."
She called out
the company on Instagram, stating that the brand never sought permission nor compensated her for the doll. Mucciolo also explained that her hair was dyed in aqua with rainbow highlights from November 2018 to February 2019, and she has been sharing photos of her colorful hairstyle online.
She also brought up
being a guest on LOL Surprise's YouTube video in April 2019. "Having huge corporations make money off my ideas and identity has been infuriating and devastating," she said.
LOL Surprise
responded to her accusations and denied that the doll was created after her. The company explained that the design had already been in development since the summer of 2018, way before Mucciolo had the hairstyle.
"'Rainbow Raver'
was designed after music festival fashions," the company said. "We deeply respect the artistic and creative community and would not take from a creator in the way suggested. MGA works tirelessly to protect our own intellectual property against that behavior."
However, Mucciolo
continued to criticize the company and "refused to be silenced." Larian fired back at her tweets, writing, "You are #Disgrace to black people and the #BLM cause. #Liar and #Coward."
"Who's your
so-called lawyer? Put his name and contact information here publicly now so we can contact him or her. Now we will no longer be nice and we will sue you for defamation, extortion, fraud," the company's CEO proclaimed.
Larian later deleted
his tweets and issued an apology. "I don't know @studiomucci personally, and my reaction was solely based on the allegations which we looked into and found were false," he tweeted. "The words I used came from frustration because her actions were attacking the products and integrity of people I care deeply about."
Sharing this again because I refused to be silenced! #lolsurprise #mgaent used my likeness to make this doll without my permission. pic.twitter.com/hiB7WOyIlK

— Amina Mucciolo (@StudioMucci) June 19, 2020
This is @isaaclarian CEO and founder of @MGAEnt creator of the #Bratz #LOLSurprise #LittleTikes #NumNoms #PoopieSlimeSurprise #ProjectMC2 #LalaLoopsy & #PopoHair toy lines. His company used @StudioMucci's likeness without pay for a @LOLsurpriseDoll & now hes harassing her online. pic.twitter.com/j7XQkD7JHl

— Matthew A. Cherry (@MatthewACherry) June 20, 2020
One day @isaaclarian is having his companies put out #BlackLivesMatter statements and the next he's telling a Black women, who's work his company @LOLSurpriseDoll stole, that she's a disgrace to black people and the Black Lives Matter cause. #BoycottLOLSurprise pic.twitter.com/WL6fH8Msoc

— Matthew A. Cherry (@MatthewACherry) June 20, 2020
I am DISGUSTED at how the CEO of MGA Entertainment responded to this tweet by my friend Amina. Never supporting his work again #LOLSurprise #LittleTikes #PoopsieSlimeSurprise #NumNoms #ProjectMc2 #Lalaloopsy #Bratz #Popohair Very unprofessional. SHAME. https://t.co/HhtuzUFHac

— Cupquake ✨ (@iHasCupquake) June 19, 2020
Does your store carry #LOLSurprise or #bratzdolls? This is the CEO calling a woman of color a "disgrace to black people" for her claim that they copied her signature look. Can you support this behaviour? @Walmart @Target @ToysRUs @JeffBezos pic.twitter.com/2TpVpRe1xm

— Angie Lemonheart (@Angie_Lemonh) June 19, 2020
in which the non-Black chairman and ceo of @mgaent calls a Black woman a "disgrace to black people," after she put the company on blast for stealing her likeness.

i invite you to join me in never purchasing another lolsurprise, lalaloopsy, or bratz doll again. https://t.co/TfOkcGkQQP

— EricaJoy (@EricaJoy) June 20, 2020
In response to recent allegations by @StudioMucci regarding #LOLSurprise, we want to clear the air. pic.twitter.com/GKYXBfaUqO

— MGA Entertainment (@MGAEnt) June 11, 2020
A) it looks exactly like her. Down to the exact braid shades.
B) the timeline you have provided us is absolute nonsense. she has had this look for YEARS, and this particular hairstyle at least 7 months before the doll was released

— Big Cox Energy (@tracycox) June 20, 2020
[via
BuzzFeed News
, opening image via
Amina Mucciola
]
Receive interesting stories like this one in your inbox
Also check out these recent news