Don't miss the latest stories
Share this
Trump Makes 'Hustory' Delivering Typos IRL, Pronouncing Founders As 'Frownders'
By Izza Sofia, 26 Jun 2020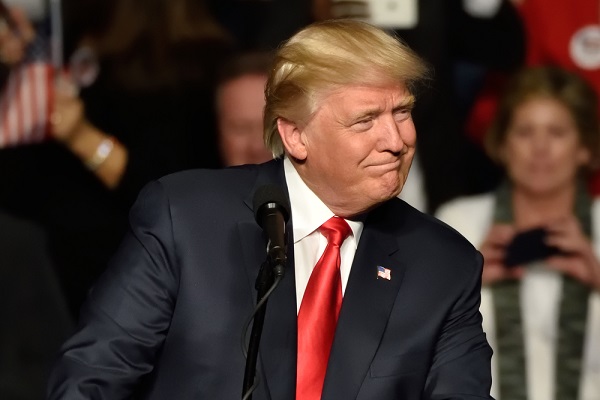 Image via Evan El-Amin / Shutterstock.com
Since taking up
office as president, Donald Trump has made a lot of spelling mistakes, such as "
covfefe
" and "
hamberders
." Another word added to his list of spelling errors is "hustory."
Last Monday,
Trump tweeted, "The Trump Rally gives @FoxNews the 'Largest Saturday night audience in its hustory'." Internet users were quick to notice that the president wrote "hustory" to mean history, and took to Twitter to poke fun at him.
George Conway joked,
"Okay, enoigh's enough—let's stop musspellung words to make fin of Trimp musspellung 'hustory.'"
"I would like our
next president to be able to spell," Nicole Schuman tweeted, apparently tired of all the misspellings Trump has made thus far.
On top of spelling errors,
James Corden
also noticed
that Trump, too, had difficulty pronouncing a word at his Arizona rally.
During his campaign
speech at the Students for Trump event, POTUS had meant to say that a student in the audience shared a similar spirit to that of the Founding Fathers. However, instead of pronouncing "founders," Corden and comedian Reggie Watts thought they heard something else.
"What was it,
the frown-ders?" Corden questioned. "Something frownding, flounding, yeah," Watts replied. They replayed the campaign video once again, and decided that Trump had indeed uttered, "frown-ders."
"He even speaks
in typos. It's incredible," Corden joked.
WOW! The Trump Rally gives @FoxNews the "LARGEST SATURDAY NIGHT AUDIENCE IN ITS HUSTORY". Isn't it amazing that virtually nobody in the Lamestream Media is reporting this rather major feat!

— Donald J. Trump (@realDonaldTrump) June 22, 2020
okay enoigh's enoigh—let's stop musspellung words to make fin of Trimp musspellung "hustory"

— George Conway (@gtconway3d) June 23, 2020
I would like our next president to be able to spell. https://t.co/qKKepIo2ww

— Nicole Schuman🍕 (@Buffalogal) June 23, 2020
YOU MADE HUSTORY! https://t.co/Ev7l9XjB2f

— Ken Jeong (@kenjeong) June 22, 2020
I guess it doesn't technically count as a lie if you spell it wrong.

The greatest loophole in hustory.... https://t.co/E6oO1QOe6T

— Kimberly Graham For Iowa (@KimberlyforIowa) June 23, 2020
PREZIDESHUL HURASMEANT! https://t.co/GRrgq6Ba0f

— Spiro Agnew's Ghost (@SpiroAgnewGhost) June 23, 2020
Saw #Hustory trending. Guessed Trump misspelled "History."

I was correct. https://t.co/b6OiLBjmjE

— Justin L. Hunte 🇺🇸🇺🇸🇺🇸 (@TheCompanyMan) June 22, 2020
Still can't get over how the same political party that demands everyone "speak English because this is America!" is led by a guy who can't even spell the most basic words in this language. https://t.co/5xVXCMJDD3

— Brian Tyler Cohen (@briantylercohen) June 23, 2020
[via
HuffPost
, opening image via
Evan El-Amin / Shutterstock.com
]
Receive interesting stories like this one in your inbox
Also check out these recent news