Don't miss the latest stories
Share this
Cardi B Hits Back At Claims Of Having Fake Instagram To Diss Black Artists
By Izza Sofia, 26 Jun 2020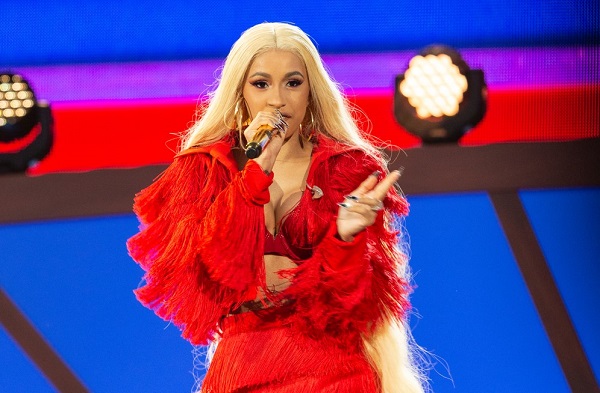 Image via lev radin / Shutterstock.com
Cardi B
has been accused of having a fake Instagram account, also known as a "finsta," that she would use to slam other female celebrities like Ariana Grande, Doja Cat and Megan Thee Stallion.
The rapper,
however, hit back at these allegations, stating, "These people must think that I'm a 15-year-old girl."
"I woke up
and I'm seeing that they trying to make this '#CardiBIsOverParty," she addressed in a video. "So now I'm seeing that these people, I guess they're editing, or they are claiming that I have a fake Instagram. And they claim that Lil Kim follows the page, and my makeup artists, but they never did," she continued.
She also dimsissed
the rumors that she bashed Grande, saying that she "never even had a problem" with the latter, "so why would I even talk about her?" She also clarified that she knows people from Stallion's team and "they get along really good" with each other.
The rapper
also took to Twitter, where she responded to claims that she had branded Black women as "roaches" as a colorist slur. "I have called myself a roach twice. I never used as a color thing," she tweeted.
After debunking
allegations, she thanked fans for standing by her and sending warm wishes. "All I been doing is eating food and people have to make fake edits to cancel me it makes me feel like I'm that b*tch," she responded to a fan.
-was transphobic earlier in her career
-made fun of dark skin women & called them monkeys & roaches
-admitted to drugging and robbing men
-sent body guards to beat up strippers HER man was cheating on her with
-threw a shoe at nicki minaj during fashion week#CardiBisoverparty

— ًsarah⁷ (@chalametvol6) June 25, 2020
#CardiBisOverParty ???? as she should pic.twitter.com/3IQ6lDMpTY

— sky ⚠️ fan account (@skysneedy) June 25, 2020
calling black women roaches,being xenophobic against Arabian people #CardiBIsOverParty pic.twitter.com/dEYLXIjkvO

— STREAM TROLLZ❤️BLM❤️ (@barbbiedrip) June 25, 2020
I see #CardiBIsOverParty is trending. Are we finally gonna talk about how she thinks a great type or revenge is putting trans women's lives at risk by tricking men into sleeping with trans women to humiliate them for doing so? Or we just gonna let that slide? https://t.co/kB8bsXGbXy

— BJ Colangelo (@bjcolangelo) June 25, 2020
Heeelllllerrrrrrr pic.twitter.com/eFiTfmqIag

— iamcardib (@iamcardib) June 25, 2020
I do feel really powerful.The fact that I haven't dropped music in 8 months .I haven't announced none of the projects I been workin on .All I been doing is eating food & people have to make fake edits to cancel me it makes me feel like IM THAT BITCH ! https://t.co/UTPoqdumbI

— iamcardib (@iamcardib) June 25, 2020
[via
Page Six
, opening image via
lev radin / Shutterstock.com
]
Receive interesting stories like this one in your inbox
Also check out these recent news