Don't miss the latest stories
Share this
Take A Look At Your Zodiac Sign's Demon Based On Persian Astrology
By Thanussha Priyah, 30 Jun 2020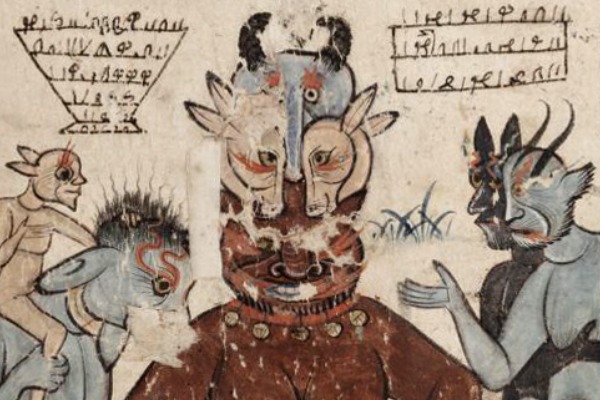 Image by Multiple/Unknown - Oxford Digital Library (public domain)
Demons, angels and
evil spirits have been weaved in occult traditions around the world.
Princeton's Department of Rare Books and Special Collections
offers an inside look into an early 20th-century Persian manuscript on magic and astrology.
Titled Kitāb-i ʻAjāʾib-i makhlūqāt
(
Wonders of Creation
), the manuscript features incantations and 56 painted illustrations on various demons and angels. The text, accompanied by images of the supernatural figures, is written in Arabic and Farsi, and dates back to the years between 1911 and 1921.
Professor at the
Department of Religious Studies at Bucknell University in Pennsylvania
Ali Karjoo-Ravary
decribed that the text detailed about demons and possible ailments tied to each zodiac sign, as well as revealed instructions to exorcise them.
In one of
the inscriptions, the sorcerer has to take a handful of soil beneath the feet of a possessed person and chant a sentence seven times. The sentence goes by, "God of the heavens and the earth, hurry, hurry, bring back, bring back, bring back the love for virtue."
Twitter user @ragbonehair
has created a thread of these mystical demons associated with each zodiac sign. Find yours below.
Your astrological sign as demons, according to an early 20th century Persian text - thread

Aries 1/12 pic.twitter.com/8E5ocE0OE7

— Lizard Queen (@ragbonehair) December 11, 2019
Gemini 3/12 pic.twitter.com/OOmpgwqZ87

— Lizard Queen (@ragbonehair) December 11, 2019
Leo 5/12 pic.twitter.com/iU2mrhxm1Y

— Lizard Queen (@ragbonehair) December 11, 2019
Scorpio 7/12 pic.twitter.com/lRQFhLTIT0

— Lizard Queen (@ragbonehair) December 11, 2019
Libra! Which is out of sequence because I lost count 12/12 pic.twitter.com/l64SZHUJWy

— Lizard Queen (@ragbonehair) December 11, 2019
Capricorn 9/12 pic.twitter.com/HlwMtoLfpc

— Lizard Queen (@ragbonehair) December 11, 2019
Pisces 11/12 pic.twitter.com/ixiSvHHFG9

— Lizard Queen (@ragbonehair) December 11, 2019
[via
Hyperallergic
, cover image by
Multiple/Unknown - Oxford Digital Library, Public Domain
]
Receive interesting stories like this one in your inbox
Also check out these recent news