Don't miss the latest stories
Share this
Cuomo's Weird Poster Painting New York's Virus Response As Mountain Is Peak Epic
By Mikelle Leow, 14 Jul 2020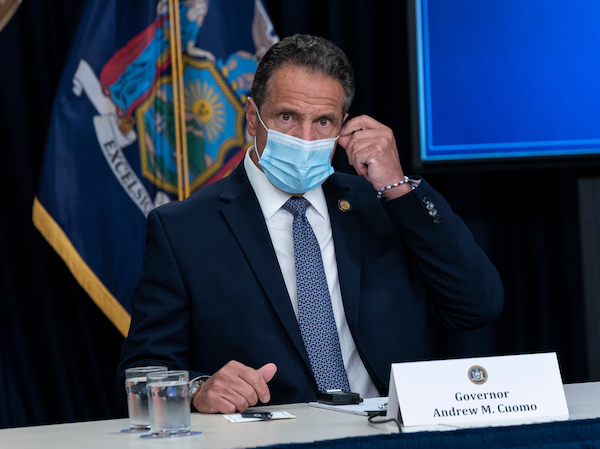 Image via lev radin / Shutterstock.com
If people paid
as much attention in school as they are drawn to New York Governor Andrew Cuomo's
fascinating visual aids
, there'd be much more common sense in the world. Now, there's more to unravel—Cuomo has shared a gripping new poster commending New York's response to the
COVID-19
pandemic that gets more whimsical the longer you look at it.
The graphic,
painted to match the aesthetics of 19th-century political art, maps out Cuomo's figurative "111 Days of Hell,"
Mashable
reports. Headlined with the text "NEW YORK TOUGH" and the values of being "SMART… UNITED… DISCIPLINED… LOVING," the poster features a foam mountain signifying the state's relentless fight to "flatten the curve."
The mountain is
roped down by frontline workers who are energized with "The Power of 'We'," though everyone knows that's easier said than done. To overcome this hurdle, New York will also have to trek through numerous waypoints—like "Testing-Tracing" and observing social distancing—before reaching the peak and being greeted by a rainbow where "love wins."
However, social media users
are especially concerned by something labeled as "Boyfriend Cliff," which shows a man struggling to cling onto the edge of a cliff, sparking speculations of it referring to the boyfriend of Cuomo's daughter.
the "Boyfriend Cliff" is when you date one of Cuomo's daughters and he doesn't like it so he draws you dying on a public poster pic.twitter.com/Ubq8m17veZ

— Katie Sicking (@KatieSicking) July 13, 2020
The official
later reassured a worried Chrissy Teigen, "We do like the boyfriend," but also pointed out, "All boyfriends face a steep climb."
The mountain
is surrounded by a metaphor-filled skyscape, as well. There's a plane flying three million Europeans amid "Fed clouds of confusion" while a disembodied head blows "winds of fear" into the atmosphere.
In the area marking
the period of New York's reopening, US president Donald Trump is depicted as the Man on the Moon with the caption, "It's Just The Flu." On day 111, the sun—for lack of a better word—outshines Trump's moon, indicating "The Sun On The Other Side."
"The Man on the Moon" - "It's only the Flu"...this made my day hahaha pic.twitter.com/8OfxpIF6On

— Mike Will (@MIKEwill77) July 13, 2020
Of course,
a Cuomo graphic isn't one without a stern message by the governor. The poster highlights a quote by him, reading, "Wake Up America! Forget the Politics, Get Smart!"
Explaining his love
for visual metaphors, Cuomo expressed, "I love history. I love poster art. Poster art is something they did in the early 1900s, late 1800s, when they had to communicate their whole platform on one piece of paper."
He also summed up
the abstract artwork: "We went up the mountain, we curved the mountain, we came down the other side and these are little telltale signs that, to me, represent what was going on."
For adoring fans
of the poster, you can preorder the art through Governor Cuomo's
official store
.
We do like the boyfriend. All boyfriends face a steep climb. https://t.co/y7HBhnxcrx

— Andrew Cuomo (@NYGovCuomo) July 13, 2020
The Sea of Division. The Boyfriend Cliff. The Sun On The Other Side. See it all for yourself.

Pre-order the #NewYorkTough poster here:

— Andrew Cuomo (@NYGovCuomo) July 14, 2020
It demonstrates that there are no rules! Are people afraid? Draw a demon in the clouds blowing out "Winds of Fear"! The economy is falling? Draw it as a waterfall! Put the president on the moon! pic.twitter.com/uJnE0RwPQL

— Bill Roundy (@bartoonist) July 13, 2020
Also, the poster has room for Cuomo's three daughters, his dog Captain, and someone I don't recognized labeled "Smiling Rob" - and no sign of de Blasio.

— Bill Roundy (@bartoonist) July 13, 2020
And "Smilin' Rob" is NY State Budget Director Robert Mujica, who I didn't recognize with glasses on. Superman comics are true!

— Bill Roundy (@bartoonist) July 13, 2020
[via
Mashable
, images via various sources]
Receive interesting stories like this one in your inbox
Also check out these recent news