Don't miss the latest stories
Share this
How You Could Look In 25 Years If Your Work-From-Home Habits Don't Get Better
By Mikelle Leow, 20 Jul 2020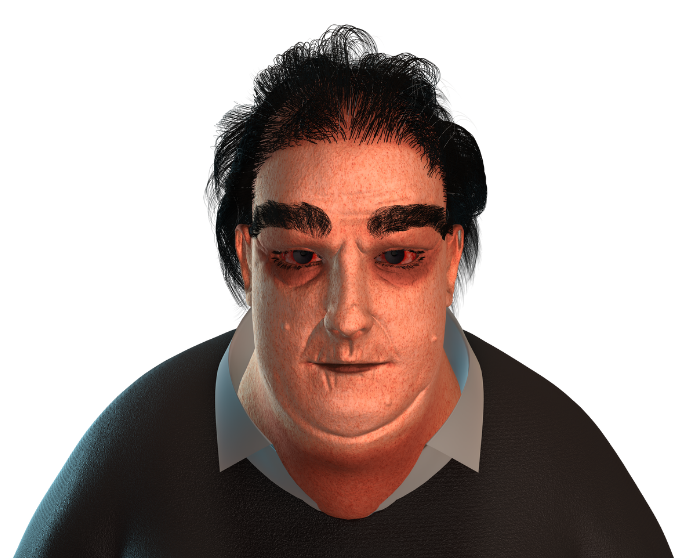 Image by DirectlyApply and featured with permission
As the world
transitions to a remote-working style in the wake of the
COVID-19
pandemic, your habits might change too. There's now less need to check your professional behavior since you're no longer physically around others in a stricter setting, and while that certainly has its perks, it can lead to a less proactive lifestyle which could translate in a change in appearance—not good for video calls but worse for your health.
If you haven't
gotten around to introducing healthier changes to your new lifestyle, maybe a vision of what people could look like 25 years down the road will set things off. Meet 'Susan the Future Remote Worker', a 3D model created by job discovery platform
DirectlyApply
along with clinical psychologists and fitness experts to predict the appearance that people who work from home could take on if they don't make necessary changes to their working habits.
Over time,
remote workers can experience drastic changes to their health and posture if they stick to sedentary lifestyles, as 'Susan' demonstrates.
Click to view enlarged version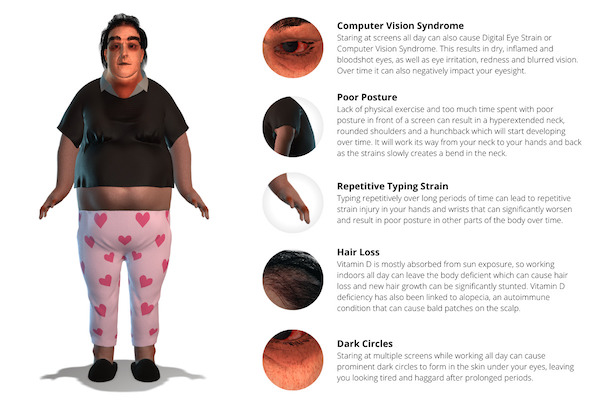 Click to view enlarged version. Image by DirectlyApply and featured with permission
Firstly, you can
wind up suffering from something called Computer Vision Syndrome, where your eyes get dry, bloodshot and inflamed, with a possible deterioration in vision. Another foreseeable effect is bad posture from spending too much time in front of a screen and neglecting physical exercise, which starts from the rounding of shoulders and a hyperextended neck to a slouch in your arms and back.
There could also
be something called "tech neck," an effect caused by the long-term tilting of your neck when staring at your laptop or smartphone. The strain adds on, resulting in rounder shoulders, as well as possible lower back pains and shortened hamstrings.
Some people might
thrive most from working at home, but that productivity from typing away over extended periods of time might lead to repetitive strain injury in your hands and wrists. Even when you're in the momentum, remember to take a pause and get some sunlight, as you'll need sun exposure to get vitamin D or you'll notice hair loss, stunted hair growth, or a paler and duller complexion.
Click to view enlarged version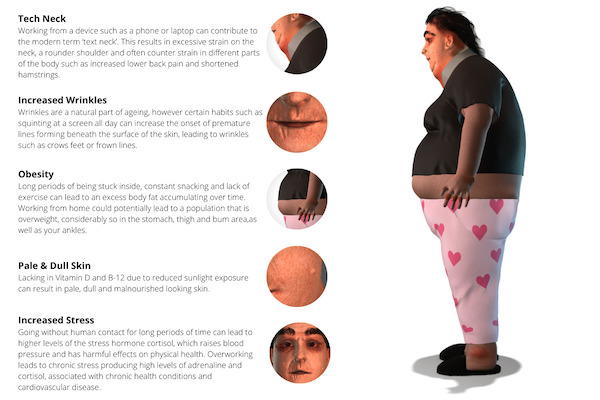 Click to view enlarged version. Image by DirectlyApply and featured with permission
Not forgetting
the usual suspects of dark circles, increased wrinkles, weight gain, and an ultimate spike in stress levels.
Now, 'Susan' isn't
all terrible. She is designed to shed light on what you can incorporate into your remote lifestyle so you don't end up even looking remotely—no pun intended—like her.
Work out a routine
Dr Rachel M. Allan
, chartered counseling psychologist, for one, highly suggests finding a routine that "suits your life, your productivity levels and your job demands" as it's key to preserving your emotional health.
Incorporate physical activity
Not many people
want to hear this, but exercise is important too, especially when working at a home office desk might have eliminated how much physical activity and fresh air you had been naturally getting in the past. Personal trainer
Joe Mitton
advises to trying out yoga, which is "the perfect remedy for stiffness and 'tech neck.'"
Maintain work-life balance
More than ever,
maintaining a work-life balance should be your mantra, though admittedly, this is difficult no matter the setting you work in. Thankfully, it is possible to foster this at home. Clinical psychologist Kate Brieton recommends establishing "a delineated home-working space if you can, ideally a separate room." However, if this isn't possible, try separating your working from resting areas with furniture or house plants, or keeping them apart with a rug. Also, you'll need to remind yourself to take regular breaks, which you can assist by setting up reminders or alarms on your phone.
You can find out
more about 'Susan', as well as discover new ways to improve your remote-working lifestyle, by checking out
DirectlyApply
's full blog post.
[Images by
DirectlyApply
and featured with permission]
Receive interesting stories like this one in your inbox
Also check out these recent news