Don't miss the latest stories
Share this
Microsoft Office Is Undergoing A Massive Redesign Motivated By Pandemic Stress
By Mikelle Leow, 22 Jul 2020
Click to view enlarged version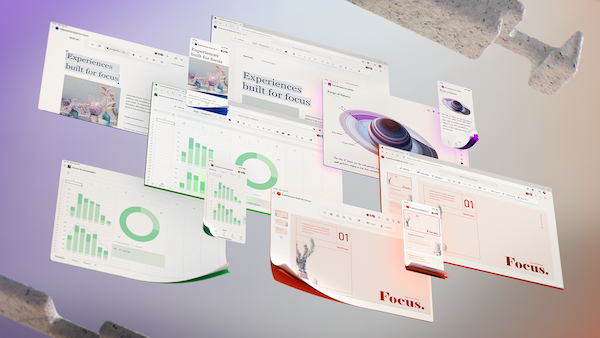 Early iterations of Microsoft's updated Fluent Design. Image via Microsoft Design
Microsoft has been
bringing up its vision of
revamping its productivity apps
for awhile now, being especially careful that any changes introduced won't throw off familiarity or muscle memory tied to the go-to Office suite. However, it is the mass of unpredictable disruptions brought about by the
COVID-19
crisis that has given the company even more reason to embrace change.
In the midst
of a pandemic, the tech giant has witnessed how unforeseen circumstances have overturned the way people work and live, and naturally, this has led to greater stress. Microsoft now sees the growing need to tidy up your digital workspace and help you focus better.
"To reduce the stress
and anxiety that distractions create, we ask ourselves as product makers how we can throw less tasks your way or reduce the number of notifications," described John Friedman, head of design at Microsoft Office, in a new
blog post
. "How can we help you feel good about taking a break from work so you can return with a refreshed ability to focus? What extraneous visuals can we remove so your content, not the UI, becomes the sole focus?"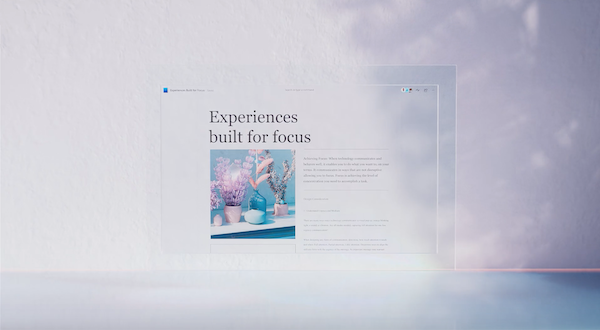 Video screenshot via Microsoft Design
The revamp
of Microsoft 365 apps will see an overhaul of the powerful ribbon, situated at the top of your window, that lets you access every function and setting you need. Microsoft intends to transformatively simplify this area to become one that's smarter, lighter, and more flexible. To ensure this, the company will uproot the static ribbon and make it moveable, as well as have it "progressively [disclose] contextually relevant commands at the right time just where you need them."
Alongside this
significant UX change will be the "fading [of] brand colors from app headers" and an exploration of "adaptive commanding," Friedman continued.
Microsoft will leverage
artificial intelligence to make the Microsoft 365 experience much more intuitive, training it to predict "relationships among topics, content, and people, [and] turning overwhelming amounts of information into digestible bites that you can act on." AI will also help Excel "catch errors as you write formulas" and store existing errors in an "easy-to-find place" to be remedied when you're ready.
Click to view enlarged version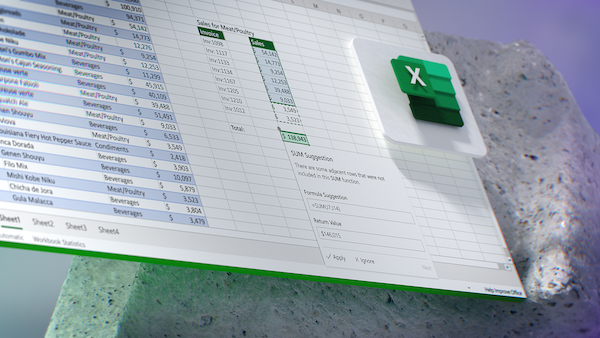 An example of how AI will refine Microsoft Excel's usability. Image via Microsoft Design
"In Planner,
we're exploring how AI can auto-suggest end dates for tasks based on their descriptions, which is akin to how Forms currently leverages AI to auto-populate questions based on the title you entered," Friedman added.
The recent years
have sparked the need for advanced security measures, and Microsoft will honor this by "designing experiences that empower file owners to communicate levels of sensitivity to others so you can collaborate with confidence and control what people can or can't do within documents." This will not only keep hackers and leakers at bay, but also help prevent confidential documents from being shared by "an overeager coworker."
Overall, the redesign
is aimed at boosting productivity by weeding out distracting details that could creep into states of frenzy in the long run. "Because nobody knows your external circumstances or inner emotional state better than you, achievement needs to happen on your terms to be sustainable," Friedman suggested. "This is perhaps truer than ever because, for many, 2020 swallowed the whole proverbial work/life divide."
"Understanding this propels us
to craft Microsoft 365 experiences that support our lives in all their unique complexity," the lead designer explained.
The redesign is
expected to involve all platforms, including your desktop, smartphone, and tablet. Some of the upgrades should be rolled out "within a year or two," while others could take longer as they are still "exploratory."
There are
a lot of ideas up Microsoft's sleeve that have yet to be unveiled, but one feature that will certainly not pop up is the conceptual "
cake function
" the company jokingly teased for Excel earlier this month.
[via
BGR
, video and images via
Microsoft Design
]
Receive interesting stories like this one in your inbox
Also check out these recent news