Don't miss the latest stories
Share this
Asians Are Shaken By Viral Clip Of BBC Food Host Washing Cooked Rice
By Izza Sofia, 27 Jul 2020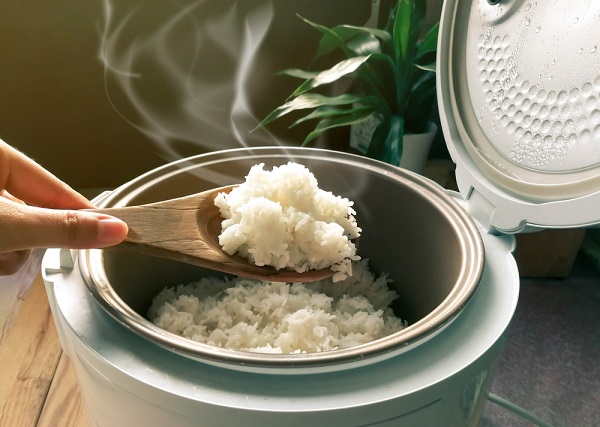 Image via Shutterstock
The Asian community
was left fuming after a video of a
BBC
host cooking rice went viral online.
The clip showed
BBC
food personality Hersha Patel making fried rice to satisfy Chinese takeout cravings. The recipe involved eggs and stir-fried vegetables, but what left viewers horrified was that she washed the rice after it was cooked. She took it over the sink and drained it in the colander, before rinsing it all in water. This was an "insult" to fried rice, an angry viewer said.
The clip
was originally posted on Facebook in April 2019, but it recently went viral when comedian Nigel Ng shared his reaction video upon watching the clip.
Other Twitter users
weren't too happy with the method, claiming that the rice should be washed before cooking. Others couldn't stand the idea of the rice getting soggy.
"Please wash your
rice before you cook it oh my god I keep seeing the video where someone rinses cooked rice," one angry Twitter user wrote. "
BBC
, where did you find this woman? No wonder Gordon Ramsay yells so much," another user joked.
Hersha's egg-fried rice

When all you can think about is Chinese takeaway, watch this video and you'll be making your own egg-fried rice before you know it! https://www.bbc.com/food/recipes/eggfriedrice_67782

Posted by BBC Food on Wednesday, April 17, 2019
PLEASE WASH YOUR RICE BEFORE YOU COOK IT OH MY GOD I KEEP SEEING THE VIDEO WHERE SOMEONE RINSES COOKED RICE

— Rags (@realRAGtime) July 23, 2020
This is the first time I see someone drain the rice in 34 years of my life. BBC, where the hell did you find this woman? No wonder Gordon Ramsay yells so much. You wash the rice before you cook and it's best to use leftover rice for fried rice REEEEE https://t.co/PNNsYjDHML

— Xyrenica✨ (@xyrenica) July 23, 2020
HOW DO PPL NOT KNOW HOW TO MAKE RICE AKFJJKAKS https://t.co/Al1o3jCSVi

— Pearl Low | 盧寶珠 (@Fumi_chun) July 22, 2020
So I checked out BBC's How To Cook Rice and astaghfirullah, it is so wrong in all levels I'm confident any Asian will say its Haram. 😂

— Nor-Jamal Batugan (@JanJanBatugan) July 24, 2020
LMAAOOOO WHO IS THIS HILARIOUS DUDE??????? 😂😂😂😂😂 THIS RICE COOKING IS A HATE CRIMEpic.twitter.com/V4N4gS4W77

— Jenny Yang (@jennyyangtv) July 23, 2020
[via
Delish
, opening image via
Shutterstock
]
Receive interesting stories like this one in your inbox
Also check out these recent news