Don't miss the latest stories
Share this
Trump Painting By Artist Jon McNaughton Draws Hilarious Reactions From Internet
By Izza Sofia, 28 Jul 2020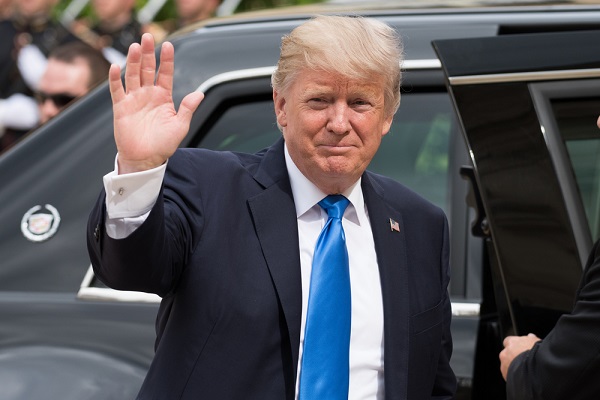 Image via Frederic Legrand - COMEO / Shutterstock.com
Artist Jon McNaughton
has unveiled its latest painting of US president Donald Trump.
The artwork
showcased Trump seated and praying, while other historical figures gathered around him. Titled
Legacy of Hope
, the figures include former presidents Abraham Lincoln and George Washington, alongside Harriet Tubman and Frederick Douglass. Some of the known individuals even reached out and placed their hand on Trump's shoulder, as he gazed down with his palms placed together.
McNaughton explained
that his painting was inspired by a
photo
showing "Diamond and Silk," the sisters who have expressed their support for Trump, and televangelist Paula White, praying over him in the Oval Office.
The art piece,
however, spurred jokes on Twitter, with many users making their own edits to the piece.
"Much improved!
Now I must go back to work!" LynSanity tweeted, together with an altered photo of Trump now with
Goya beans
lined up in front of him. PinkPurpleBlue decided to replace the figures with that of Vladimir Putin, the Joker, Darth Vader and Kim Jong-un and branding it as "Legacy of Joke."
New Painting Release – "Legacy of Hope"
As Americans, we share a LEGACY that should never be forgotten!
More information at https://t.co/okJHkQX0bd@realDonaldTrump @DonaldDTrumpJr @EricTrump @TuckerCarlson @Dbongino @lauraingram @seanhannity pic.twitter.com/x5vGb6rmv4

— Jon McNaughton (@McNaughtonArt) July 23, 2020
"time to step away from the desk" https://t.co/hmq4xVZzUH

— Jemaine Clement (@AJemaineClement) July 26, 2020
Ive got a theory... In years to come, we will discover Jon McNaughton has been playing out one of the greatest "art heists" of our time, an art world Sacha Baron Cohen, grifting the entire right-wing base & selling them prints that appeal to their dumbest instincts. pic.twitter.com/zRQTbzqjpO

— Duncan Jones (@ManMadeMoon) July 26, 2020
As you command. pic.twitter.com/L5Z6u2HUr0

— Jo (@JoJoFromJerz) July 26, 2020
Fixed it pic.twitter.com/wa0R3hy3Au

— Double Dee (@DCdebbie) July 26, 2020
Ok. MUCH improved! Now I must go back to work!! pic.twitter.com/LoHz0jGZXD

— LynSanity (@LynKream) July 26, 2020
This painting is closer to reality... "Legacy of Joke" pic.twitter.com/bSIJYH8IoY

— PinkPurpleBlue🌊🌊🌊✊😻🗽 (@PinkPurpleBlu12) July 26, 2020
Fixed it. pic.twitter.com/SIJuAkUv2u

— StickyBunny (@skullisland1919) July 26, 2020
More appropriate..... pic.twitter.com/juuMRHi0yN

— O.P. YATES (@DaveMayberry335) July 27, 2020
[via
HuffPost
, opening image via
Frederic Legrand - COMEO / Shutterstock.com
]
Receive interesting stories like this one in your inbox
Also check out these recent news