Don't miss the latest stories
Share this
Melania Trump Faces Backlash For Announcing Rose Garden Revamp Amid Crises
By Izza Sofia, 28 Jul 2020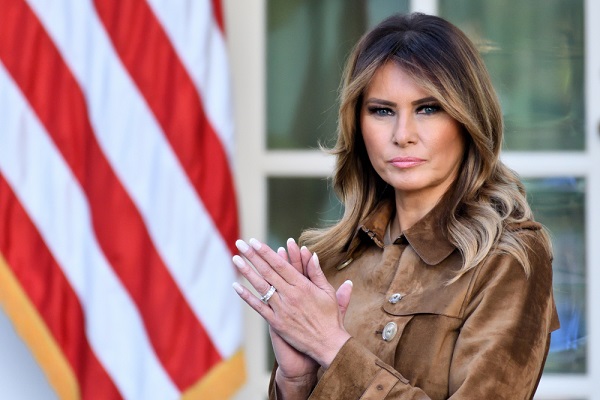 Image via Evan El-Amin / Shutterstock.com
Melania Trump
has announced that the White House Rose Garden is set to undergo renovation to resemble its 1962 design by philantrophist Rachel "Bunny" Mellon.
The Rose Garden
situated next to the Oval Office has become a place where many of president Trump's press conference are held, as part of the social distancing measures taken during the
COVID-19 pandemic
.
The extensive renovation
will include new drainage systems, two limestone walkways and electrical upgrades for TV events.
CNN
reported that the decision to overhaul the Rose Garden was made several months back and will be funded by the National Park Service and private donations.
Melania Trump
said in a
statement
that the "act of planting a garden involves hard work and hope in the possibility of a bright future." "Preserving the history and beauty of the White House and its grounds is a testament to our nation's commitment to the care of this landscape and dedication to American ideals, safeguarding them for our children and their children for generations to come," she added.
However, social media
critics lashed out at the move, calling it "tone deaf" especially in a time of national crises. "As the nation approaches 150,000 dead from COVID-19, and millions of Americans face eviction and homelessness, Melania trump is renovating the Rose Garden. I really don't care, do you?" a Twitter user commented, referencing the first lady's controversial jacket to visit the immigrant children held at the detention center.
"That's some
Marie Antoinette s*it right there," former California congresswoman Katie Hill responded to the move. Antoinette, the 18th-century Queen of France, was known for her lavish spending in a time of crisis in the country.
Even in the most difficult times, the @WhiteHouse Rose Garden has stood as a symbol of strength & continuity. Today, it is my pleasure to announce our plans to renew & restore this iconic space so that we preserve its history & beauty for generations to come.

— Melania Trump (@FLOTUS) July 27, 2020
That's some Marie Antoinette shit right there. https://t.co/oA2UZ1r72M

— Katie Hill (@KatieHill4CA) July 27, 2020
With Nearly 150,000 dead from coronavirus, 18 Million unemployed, and unemployment benefits ending, Melania will revamp the Rose Garden as her husband does nothing to alleviate the pain and suffering. 🤬 https://t.co/AuCZnIwtQy

— Robert Cooper 🌊 (@RobertCooper58) July 27, 2020
Getting a real "let them eat cake" vibe going on here. https://t.co/4oaIP3cAO3

— Dan Rather (@DanRather) July 27, 2020
To @FLOTUS Melania Trump,

Before you tackle redecorating the Rose Garden:

1. Ask your husband to stop beating mothers, veterans and peaceful protesters.

2. Call DHS and tell them to reunite all the immigrant kids with their parents that your husband caged/separated years ago. pic.twitter.com/AUJc8GmxQx

— Don Winslow (@donwinslow) July 27, 2020
Why is Melania Trump announcing a Rose Garden renovation in the middle of a national crisis? 149,000 Americans have died in a window of a few short months.

— A Worried Citizen (@ThePubliusUSA) July 27, 2020
As the nation approaches 150,000 dead from COVID-19, and millions of Americans face eviction and homelessness, Melania trump is renovating the Rose Garden.

I really don't care, do you?

— BrooklynDad_Defiant! (@mmpadellan) July 27, 2020
Getting a real "let them eat cake" vibe going on here. https://t.co/4oaIP3cAO3

— Dan Rather (@DanRather) July 27, 2020
[via
Independent
, opening image via
Evan El-Amin / Shutterstock.com
]
Receive interesting stories like this one in your inbox
Also check out these recent news