Don't miss the latest stories
Share this
National Parks Warns Not To Plot Killing Friends With Bears During Hiking Season
By Mikelle Leow, 10 Aug 2020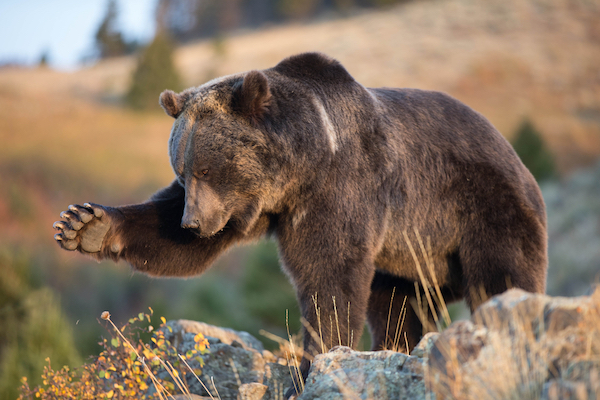 Image via Shutterstock
Campaigns these days
are getting
more and more bizarre
, but can you blame advertisers? With hiking season having just arrived amid these dystopian times, the US government has released a string of weirdly morbid PSAs reminding social media users to take the annual safety precautions—this time in a manner more Quentin Tarantino than
Barney
the dinosaur.
On 2 August,
which was National Friendship Day, the National Park Service (NPS) uploaded a peculiar poster of two silhouettes in the woods, with one of them forcefully shoving the other onto the ground while a bear lurks in the background. "Friends don't use friends as bear bait," the federal agency's graphic read.
Naturally, people were
confused, so the NPS clarified the poster in detail in a separate post. The explanation didn't assuage internet users' feelings, though.
The agency
went on to eerily address, "Please don't run from bears or push your slower friends down in attempts of saving yourself… Do NOT push down a slower friend (even if you think the friendship has run its course)," before disclaiming, "P.S. We apologize to any 'friends' who were brought on a hike as the 'bait' or were sacrificed to save the group. You will be missed."
The follow-up post
did come with some helpful advice on saving yourself—and friends you hopefully care about—from possible bear attacks.
"If you come upon
a stationary bear, move away slowly and sideways; this allows you to keep an eye on the bear and avoid tripping," the NPS urged. "Moving sideways is also non-threatening to bears. Do NOT run, but if the bear follows, stop and hold your ground. Like dogs, they will chase fleeing animals."
The government agency
also warned never to climb a tree if you encounter a bear. "Both grizzlies and black bears can climb trees," it elaborated.
The most important
things to note are to keep your cool and identify yourself with a noise so the bear knows you are a person, and not food.
"Stay calm
and remember that most bears do not want to attack you; they usually just want to be left alone. Don't we all?" the NPS alerted. "Identify yourself by making noise so the bear knows you are a human and not a prey animal. Help the bear recognize you as a human. We recommend using your voice. (Waving and showing off your opposable thumb means nothing to the bear)."
Lastly, the agency
shared that it's not uncommon for bears to inch forward or stand on their hind legs for a closer look or to pick up a scent. "A standing bear is usually curious, not threatening," it assured.
[via
Mashable
, cover image via
Shutterstock
]
Receive interesting stories like this one in your inbox
Also check out these recent news