Don't miss the latest stories
Share this
Four Types Of Introverts: Which One Are You Most Like?
By Mikelle Leow, 08 Sep 2020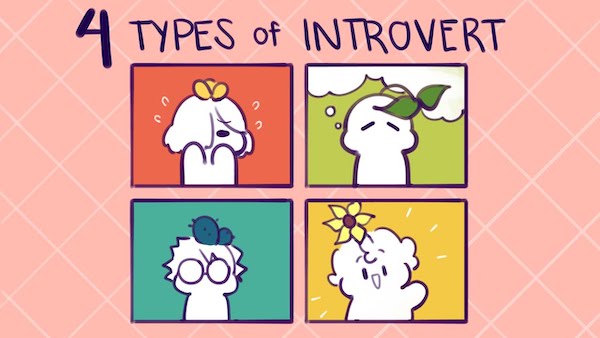 Video screenshot by Psych2Go and featured with permission
Is the quarantine
making you realize you're more of an introvert than you had thought? While much of the world has withdrawn, everyone handles their isolation differently. Even the experiences of self-proclaimed hermits vary from one another, seeing as how there's a spectrum for introversion.
A new video
by mental health and psychology community
Psych2Go
breaks down observations from a
a 2011 study
by Jonathan Cheek, Professor of Psychology at Wellesley College, which places introverts into four groups. There's the social introvert, thinking introvert, anxious introvert, and restrained introvert.
Social introverts are
pretty alright with being in social settings, but would much rather be around a few of their closest friends than a large group. While they're less likely to get shy in crowds, social introverts might feel emotionally drained after being around others for too long.
Similar to social introverts,
thinking introverts don't tend to clam up in social situations. However, they usually retreat to the world created by their mind, preferring to navigate the realm within than externally. These are the people some would describe as daydreamers.
Anxious introverts
feel especially awkward in social settings, though they're probably not quite comfortable being alone either as they'd mentally retrace past interactions and think of how they could have handled them differently.
Lastly, restrained introverts
find comfort in routines and prefer if plans were made far in advance. They also require more time to gather their thoughts before they speak.
Of course,
it's more probable for you to relate with a combination of these types than a single domain.
Learn more
about the four introverted types by checking out the endearing video below.
Video by Psych2Go and featured with permission
[Video by
Psych2Go
and featured with permission]
Receive interesting stories like this one in your inbox
Also check out these recent news