Don't miss the latest stories
Share this
World's First 3,200-Megapixel Digital Photo Has Been Captured By Researchers
By Thanussha Priyah, 09 Sep 2020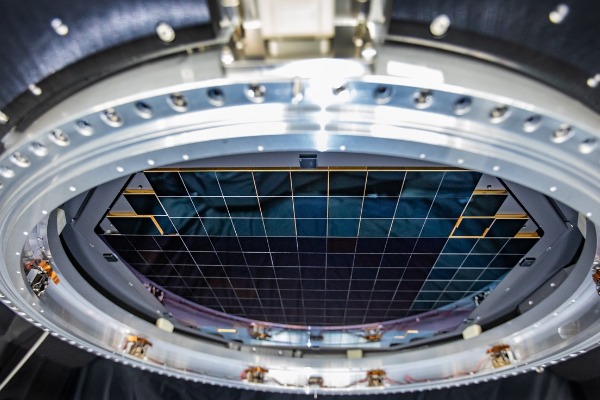 Image via Jacqueline Orrell/SLAC National Accelerator Laboratory
Researchers at Stanford
have captured the world's largest photos, which boast an incredible 3,200 megapixels.
It took six months
for the research team to assemble the camera to capture the large images.
The images were
shot using 189 sensors, known as the charge-coupled devices (CCDs), with each of them measuring up to 16 megapixels. The sensors will soon be incorporated in the world's biggest digital camera, per SLAC National Accelerator Laboratory's
blog post
.
The photos are
so large that it will take 378 4K ultra-high-definition television screens to view one of them in full size.
The amazing resolution
can capture a golf ball 15 miles away and detect objects 100 million times dimmer than what is visible to the naked eye.
The final testing
will begin next year, and once the camera is created, it will be used in the Stanford's Legacy Survey of Space and Time (LSST) telescope in Chile to study dark energy and matter, as well as develop the "largest astronomical movie of all time."
Assembling the focal plane of the @VRubinObs LSST Camera took six months, and incredible precision! See how it was done in this video produced by @SLAClab https://t.co/I6Jsu7kZMZ pic.twitter.com/fbaQvFFEnZ

— Rubin Observatory (@VRubinObs) September 8, 2020
Big News! The @VRubinObs LSST Camera team at @SLAClab has released the first images taken using the LSST Camera focal plane—these are the first 3200 megapixel images ever taken as single shots! See all the images at https://t.co/f0Hk3PWTVy pic.twitter.com/2INrt8NnTB

— Rubin Observatory (@VRubinObs) September 8, 2020
Check out this interactive tool! You can zoom in on one of the the 3200 megapixel images taken at @SLAClab using the focal plane of the @VRubinObs LSST Camera at https://t.co/pZ7M2ATvLZ pic.twitter.com/PKQfa3CpoP

— Rubin Observatory (@VRubinObs) September 8, 2020
Brush up on your fun facts about @VRubinObs and the LSST Camera in this video produced by the team at @SLAClab https://t.co/bNi3iBtkxQ pic.twitter.com/VNQBKUikwp

— Rubin Observatory (@VRubinObs) September 9, 2020
[via
Engadget
, cover image via
Jacqueline Orrell/SLAC National Accelerator Laboratory
]
Receive interesting stories like this one in your inbox
Also check out these recent news