Don't miss the latest stories
Share this
Eric Trump Claims Google Images Is 'Manipulating Americans' With Anime Pictures
By Izza Sofia, 09 Sep 2020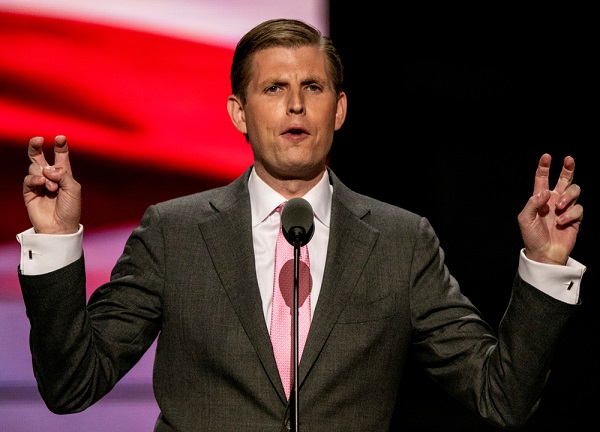 Image via mark reinstein / Shutterstock.com
Eric Trump's
latest tweet accuses Google of manipulating Americans, as pictures of anime characters would show up if you search "mob."
"Google is once
again trying to manipulate Americans," he tweeted. "Type 'mob' or 'mobs' into Google and watch what comes up. Do the same on any other search engine."
His tweet featured
images of search results from Google, Bing, Yahoo, as well as DuckDuckGo. While most of the search results appeared to be of protests, Google only showed images of anime characters. "#NothingToSeeHere," Trump concluded his post.
However, the images
aren't part of a wild conspiracy; they come from popular anime TV show
Mob Psycho 100
. The character shown in Google's search results is Shigeo Kageyama, whose nickname is "Mob."
Twitter users
were quick to chuckle at Trump's conspiracy theory and responded with fancams and clips.
Trump's viral tweet
ended up catching the attention of the show, who replied on Twitter, "Hello I heard I was trending."
Google is once again trying to manipulate Americans. Type "mob" or "mobs" into google and watch what comes up. Do the same on any other search engine. #NothingToSeeHere pic.twitter.com/XV7V4FVVWA

— Eric Trump (@EricTrump) September 8, 2020
we must ban anime

— 9 V O L T (@9_volt_) September 8, 2020
To think so many are breaking the law, watching anime. Anime, which Our Great President outlawed

— rors (@FallenRori) September 8, 2020
Meh, it's just Google promoting Mob Psycho 100. Nothing special or manipulative, to say the least.

— Ceo of ShutTheFuckUp (@ilventonero) September 8, 2020
idk man "the son of the president claiming that search results for a character from mob psycho 100 are a political media coverup by google" wasnt on my 2020 bingo

— kia (@PRIMAGIRIS) September 8, 2020
Google is trying to manipulate Americans into watching Mob Psycho 100? AS IT SHOULD BE

— Lazee (@Lazeesheep) September 8, 2020
Eric Trump thinking the cartoon Mob Psycho 100 is some sort of left-wing Google conspiracy is the gift we needed today. pic.twitter.com/ZiGGX57NQ2

— Zack Davisson (@ZackDavisson) September 8, 2020
Google is once again trying to manipulate Americans. Type "mob" or "mobs" into google and watch what comes up. Do the same on any other search engine. #NothingToSeeHere pic.twitter.com/XV7V4FVVWA

— Eric Trump (@EricTrump) September 8, 2020
Hello I heard I was trending 🙂 pic.twitter.com/63FHvKg0jC

— Mob Psycho 100 (@MobPsychoOne) September 8, 2020
[via
HuffPost
, cover image via
mark reinstein / Shutterstock.com
]
Receive interesting stories like this one in your inbox
Also check out these recent news