Don't miss the latest stories
Share this
Donald Trump Is Nominated For Nobel Peace Prize & The Internet Has Thoughts
By Izza Sofia, 10 Sep 2020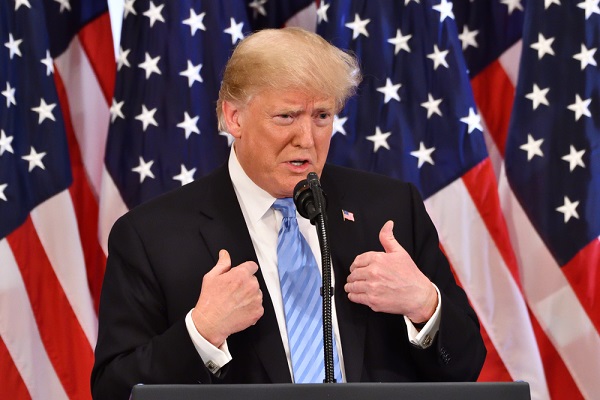 Image via Evan El-Amin / Shutterstock.com
Donald Trump
has created more buzz on social media after a Norwegian lawmaker nominated him for the 2021 Nobel Peace Prize.
Christian Tybring-Gjedde,
a member of the Progress Party in the Norwegian Parliament, said Trump should be considered for helping to broker a deal between Israel and the UAE. This might usher in peace in the Middle East, he suggested.
"It is for
his contribution for peace between Israel and the UAE. It is a unique deal. No matter how Trump acts at home and what he says at press conferences, he has absolutely a chance at getting the Nobel Peace Prize," Tybring-Gjedde told
Metro
.
Since the nomination,
internet users have taken to Twitter to express their views. While some users congratulated Trump, others poked fun at the announcement.
"OK, now 2020
is officially bat-s**t crazy," a Twitter user said. "Why in the hell would you nominate a guy who spent a month bragging about passing an Alzheimer's exam?" another wrote.
President Trump has been nominated for the Nobel Peace Prize!

"I think he has done more trying to create peace between nations than most other Peace Prize nominees," said Christian Tybring-Gjedde of the Norwegian Parliament.

News of the day: https://t.co/DaQTQQYSok pic.twitter.com/h0NoGPuBEN

— The White House (@WhiteHouse) September 9, 2020
Fact: Trump deserves the Nobel far more than did Obama, who won one for the great accomplishment of being a breathing human https://t.co/NlZs7JJ724

— Ben Shapiro (@benshapiro) September 9, 2020
Trump being nominated for the Nobel Peace Prize by far-right anti-immigration nut job Christian Tybring-Gjedde is like getting a letter of recommendation to be a firefighter by a pyromaniac or like, you know, being endorsed for President by Osama Bin Laden's niece Noor Bin Laden.

— Eugene Gu, MD (@eugenegu) September 9, 2020
Can you imagine the riots and temper tantrums from the leftist mob when President Trump is re-elected and he wins the Nobel Peace Prize in the same year..

This is going to be glorious :) #Trump2020

— Matt Couch (@RealMattCouch) September 9, 2020
Not really sure of the qualifications, I will have to look into it because this just happened ...... Norwegian parliamentarian nominates Donald Trump for 2021 Nobel Peace Prize pic.twitter.com/4nDNhALrBR

— Cheeko763 (@cheeko763) September 9, 2020
#DonaldTrump nominated for Nobel peace prize 2021*

Meanwhile former Nobel Peace Prize winners:- pic.twitter.com/lZOprNBbiH

— Kritika (@chal_chal_away) September 9, 2020
https://t.co/Nx0CtlrKRq pic.twitter.com/ZLRmCovOEM

— TheRichaChadha (@RichaChadha) September 9, 2020
Ok, now 2020 is officially bat shit crazy

— shipwreck (@shipwreck75) September 9, 2020
Christ, why in the hell would you nominate a guy who spend a month bragging about passing an Alzheimer's exam.

— James Felton (@JimMFelton) September 9, 2020
September 9, 2020
[via
The Hill
, cover image via
Evan El-Amin / Shutterstock.com
]
Receive interesting stories like this one in your inbox
Also check out these recent news