Don't miss the latest stories
Share this
Kim Kardashian Responds To 'Slimming' Controversy About SKIMS Maternity Wear
By Izza Sofia, 14 Sep 2020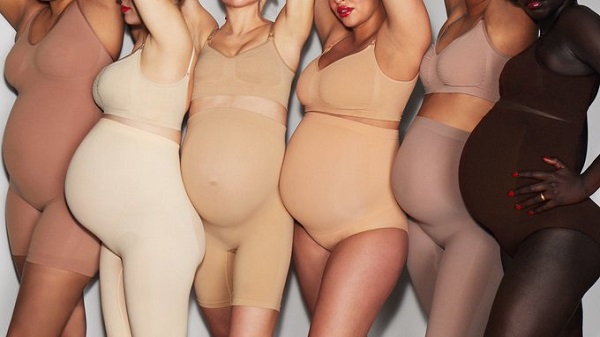 Image via SKIMS
Kim Kardashian's
new maternity line of her shapewear brand SKIMS has sparked controversy even before hitting the shelves.
The star announced
the line on Instagram with a photo of pregnant women modeling the different styles and shades of the product. "What you've been waiting for: @SKIMS Maternity is coming soon! Introducing Maternity Solutionwear that offers the best in comfort and support for your changing body during and after pregnancy," Kardashian captioned the ad.
SKIMS official
Instagram account also featured photos showing closeups of the pregnancy clothing and models caressing their pregnant bellies. The line also includes separate bras and full-length leggings or shorts. The bodysuits are advertised as "non-compressive cores," which do not apply pressure to the stomach.
The line sparked
a heated debate as many social media users were questioning why pregnant women needed to sculpt their physique. Some internet users also thought the line would give off the message that pregnant women might need to slim down.
"I'm sure that's
the one thing pregnant women need above all! Being pressed to a slimmer figure," a Twitter user sarcastically said. "Just let people enjoy their pregnancy without thinking they need to maintain the perfect figure," another user said.
Some fans,
however, came to Kardashian's defence, stating that shapewear for pregnant mothers isn't a new concept. "They sell them at maternity shops all over. I wore one through both of my pregnancy. It held my baby belly up while wearing dresses," one user clarified.
Kim Kardashian
has responded to the controversy surrounding her maternity line. In a series of tweets, Kardashian wrote, "@skims maternity line is not to slim but to support."
Kardashian explained that
"the belly part doesn't slim your belly, it's actually sheer and a thinner layered material compared to the rest of the garment." It is designed to help prevent lower back pain from the additional weight carried by pregnant women.
"The compression
on the leggings helps with pain relief caused by swelling," Kardashian continued. "It is also worn after you have given birth and provides the comfort and support that most women need after delivery especially if you are recovering from a cesarean."
Chrissy Teigen,
who is currently pregnant with her third child, shared her support for the maternity line by slipping into her shapewear and taking to her Instagram story.
In a video
she posted, Teigen explained the use of shapewear while expecting. "When you're pregnant and you're sitting down a lot, or on bed rest like me, you tend to just sit there, and if you're wearing regular, basic-ass underwear, all it does is roll inside of folds I didn't even know I had!"
Excuse my ignorance but who's trynna shape their pregnant bodies? Y'all don't like being comfy and free and loose when pregnant? It's pretty much the only time you can be as shapeless and free and comfy as you want! 🤔

— Proenca P (@brownythefirst) September 12, 2020
I'm sure that's the one thing pregnant women need above all! Being pressed to a slimmer figure

— Sara Moh (@SaraM5115) September 12, 2020
"Slimming" pregnancy? Okay then.... In a Society of females who aren't confident enough in their natural bodies. Let's make the most natural part of us covered up.

— Snu (@Snu_03) September 13, 2020
It would be so cool if pregnant people could just be allowed to be pregnant and get bigger and not be self conscious, and enjoy the miracle taking place inside their body and not have to worry about feeling embarrassed/shamed that their body is changing for an amazing reason.

— Jameela Jamil 🌈 (@jameelajamil) September 13, 2020
Sorry ladies but shape wear for pregnant women is not a new thing. They sell them at maternity shops all over. I wore one through both of my pregnancy. It held my baby belly up while wearing dresses.

— DisneyMaMa1619 (@DMa1619) September 13, 2020
The belly part doesn't slim your belly, it's actually sheer and a thinner layered material compared to the rest of the garment. It provides support to help with the uncomfortable weight being carried in your stomach which affects your lower back -

— Kim Kardashian West (@KimKardashian) September 13, 2020
We launched this category in response to the tens of thousands of pregnant women who wrote us requesting it and because it was something I personally needed when I was pregnant myself.

— Kim Kardashian West (@KimKardashian) September 13, 2020
Based on the majority of positive feedback we have received so far from pregnant women around the world, I am incredibly proud to provide a solution that will provide comfort and support during the times that we all need it most, during pregnancy and after.

— Kim Kardashian West (@KimKardashian) September 13, 2020
on the controversy that is pregnancy shapewear: it's not to be smaller. these brands aren't pressuring us to be smaller. thanks for looking out for us everyone but we're good! https://t.co/8arPjfDiUl

— chrissy teigen (@chrissyteigen) September 13, 2020
[via
Instyle
, cover image via
SKIMS
]
Receive interesting stories like this one in your inbox
Also check out these recent news