Don't miss the latest stories
Share this
Final Presidential Debate's Stingy Use Of Mute Button Inspires Plethora Of Memes
By Thanussha Priyah, 23 Oct 2020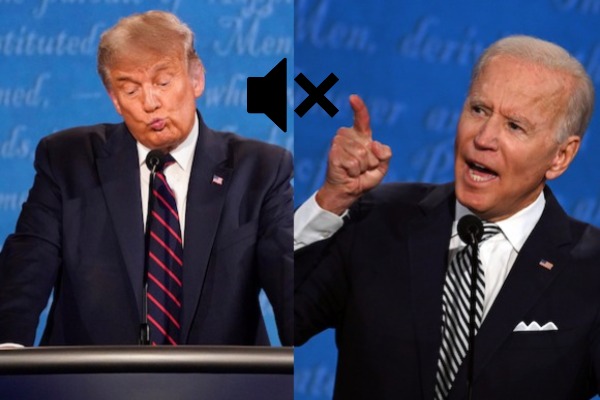 Image via Alex Gakos / Shutterstock.com and StratosBril / Shutterstock.com
In the first 2020
presidential debate, both Donald Trump and Joe Biden kept interrupting each other during the other's allocated sessions. It even prompted Biden to throw phrases like, "Just shush for a minute," "Keep yapping," and "Will you just shut up, man?" when Trump kept butting in during his speech.
So for the
final debate, the Commission of Presidential Debates
announced
that it would be muting the microphones of each participant when the other is speaking during their initial two-minute responses. The microphones would then be left live for the rest of the time for open discussions.
During the actual event,
however, it seemed like the mute button was underused as Trump had talked over Biden several times.
Internet users took
this opportunity to turn the lack of use of the touted mute button into hilarious memes.
Many joked that
the person controlling the mute button probably fell asleep during the debates, while others volunteered themselves to take the job.
View some of
the best reactions below.
The mute button

#Debates2020 pic.twitter.com/plmiX4IkWk

— amber ruffin (@ambermruffin) October 23, 2020
So the debate commissioner folks ain't gonna use that mute button. We all came here for the mute button. #Debates2020 pic.twitter.com/wi7tNavwDF

— Annie Apple (@SurvivinAmerica) October 23, 2020
The person in charge of the mute button: pic.twitter.com/4DrWMs3lhc

— The Last 🔝 (@JuSLIKEMIKE911) October 23, 2020
The mute button person looking for the button: #Debates2020 pic.twitter.com/MciSDxkVbM

— 🐝 Dan (@YankeeDandle85) October 23, 2020
Where was the mute button??? #Debates2020 pic.twitter.com/NmXuWRrtuz

— JockieJones (@JockieJoJoJones) October 23, 2020
I volunteer to be the 'mute button' button clicker. Please call me next time. #Debates2020 #DebateTonight pic.twitter.com/wpAkKmRPXi

— Yadi (@becauseyadi) October 23, 2020
Live shot of the mute-button guy pic.twitter.com/nsHWYgypv0

— Bill Grueskin (@BGrueskin) October 23, 2020
The mute button waiting to be pushed. 💀 pic.twitter.com/Dd69EFsnkH

— KentuckyForKentucky (@KYforKY) October 23, 2020
[cover image via
Alex Gakos / Shutterstock.com
and
StratosBril / Shutterstock.com
(Edited)]
Receive interesting stories like this one in your inbox
Also check out these recent news