Don't miss the latest stories
Share this
How 'My Little Pony' Characters Look From The Inside Is Enchantingly Ghastly
By Mikelle Leow, 18 Nov 2020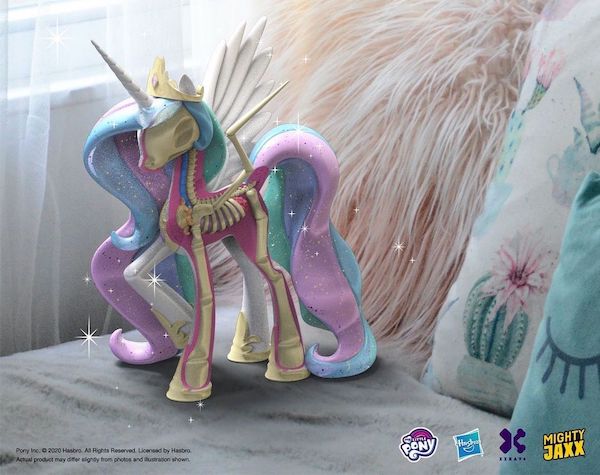 Image via Mighty Jaxx
Hey bronies,
think you know your
My Little Pony
characters inside out? Well, think again. For the first time ever, fans can see them for who they truly are, guts and all, thanks to a new macabre figurine by vinyl art toy company
Mighty Jaxx
and sculpture artist
Jason Freeny
.
The 'XXRAY Plus Princess Celestia'
figure—actually licensed by Hasbro—reveals the beloved Princess Celestia in the distinct dissection style of Freeny, also known by his moniker
Gummifetus
.
On one side,
Celestia is her sprightly self, sporting a luscious glittery mane and unicorn horn. The other half offers a fascinating look at her anatomy, including her skeleton, heart, liver, and intestines. And, yes, even her Pegasus wings are filled with bone.
Somehow, this eerie
sight hasn't killed the magic. Rather, you'll want to look even closer. Maybe this is how they get you on the dark side.
Collectors are behooved
to look at Princess Celestia's heart, which is really a sun. This is in reference to her role in controlling the sun and the moon in Equestria.
It also looks like
the collaboration isn't stopping here. Both Mighty Jaxx and Freeny are gathering suggestions for which
My Little Pony
character they should dissect next.
Images by Jason Freeny for Mighty Jaxx
[via
Mighty Jaxx
]
Receive interesting stories like this one in your inbox
Also check out these recent news