Don't miss the latest stories
Share this
Report: 35K Creatives Reveal How Work Behavior & Conditions Changed Due To COVID
By Thanussha Priyah, 04 Dec 2020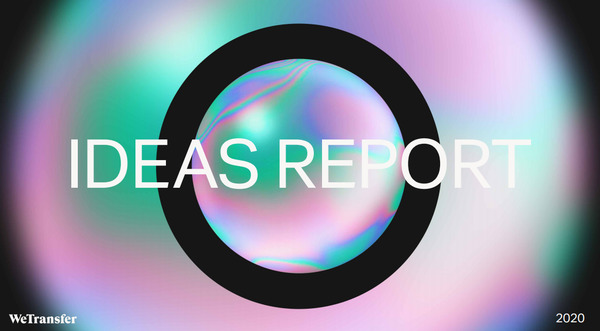 Image by WeTransfer and featured with permission
File transfer service WeTransfer
has engaged 34,851 creatives from 183 countries to develop its third annual
Ideas Report
. The global survey managed to gain some insights into how creatives come up with ideas during the
coronavirus pandemic
and the challenges they had faced in 2020.
The creatives were
enlisted from various industries from music and film to photography and advertising. When asked to pick a word to describe the year, the top three words were found to be "different," "challenging," "strange."
The survey showed that
around 54.6 percent of the participants began working from home, while 22.1 percent claimed that their environment remained the same. Around 4.7 percent stated that they had gotten a new job.
To understand whether
the environment shift made an impact, the creatives were asked if their ideation process differed from before and after the pandemic. Around 45.3 percent shared that they had generated more creative ideas now, and 26.5 percent revealed they had fewer innovative ideas. 28.2 percent said they had the same number of creative ideas.
The participants also
listed out their main sources of inspiration during the pandemic. 49 percent named their family and friends, while 40 percent pointed to nature.
They were also
requested to detail who or what was exceptionally inspiring this year, around 439 people said, "myself," followed by "my wife" by 307 individuals. Sports brand Nike also stood as an inspiration to 295 people, and the
Black Lives Matter
movement invigorated 285 creatives.
Around 46.5 percent found
themselves thinking about their future more than often amid the pandemic, while 40.8 percent spent more time thinking about cooking and food.
The creatives suggested
that staying inside (31.7 percent) and money worries (28.9 percent) became the main two factors for distractions during this time. Social media, television, and the effects of COVID-19 also played a huge part (27.72 percent).
View some of
the data from the survey below, or find out more
here
.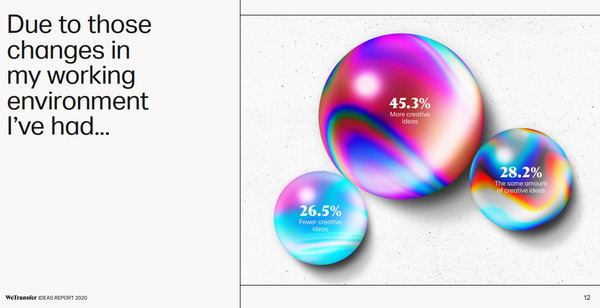 Image by WeTransfer and featured with permission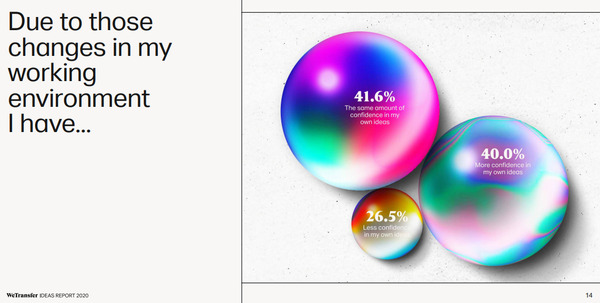 Image by WeTransfer and featured with permission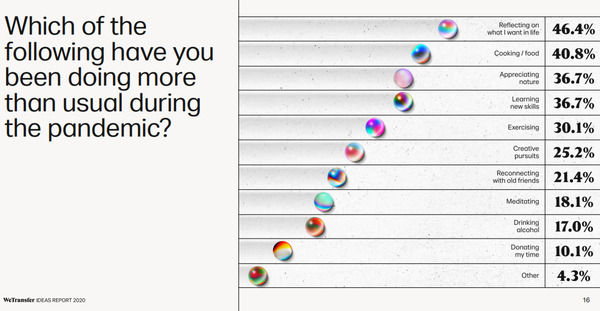 Image by WeTransfer and featured with permission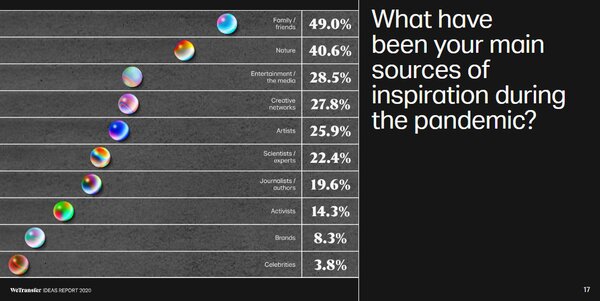 Image by WeTransfer and featured with permission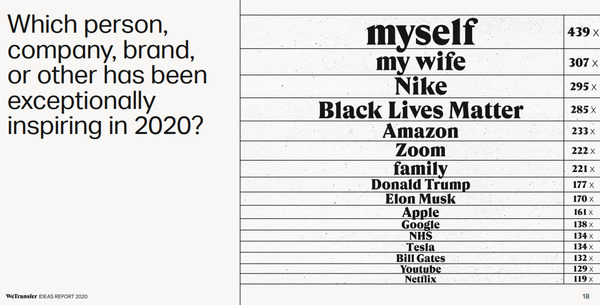 Image by WeTransfer and featured with permission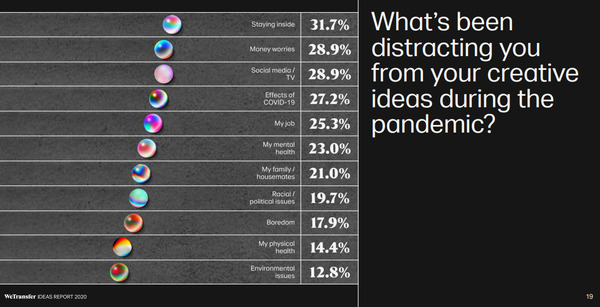 Image by WeTransfer and featured with permission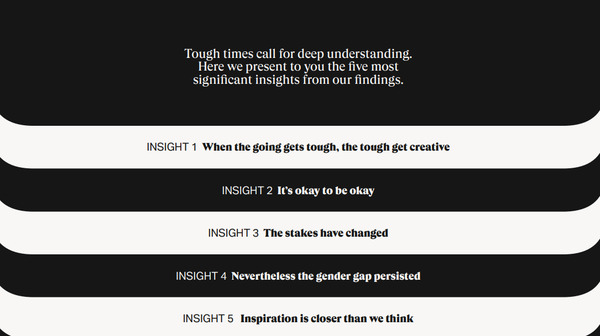 Image by WeTransfer and featured with permission
[images by
WeTransfer
and featured with permission]
Receive interesting stories like this one in your inbox
Also check out these recent news