Don't miss the latest stories
Share this
Foursquare Attempts To Rebrand Out Of 'Identity Crisis,' Gets More Confusing
By Mikelle Leow, 14 Dec 2020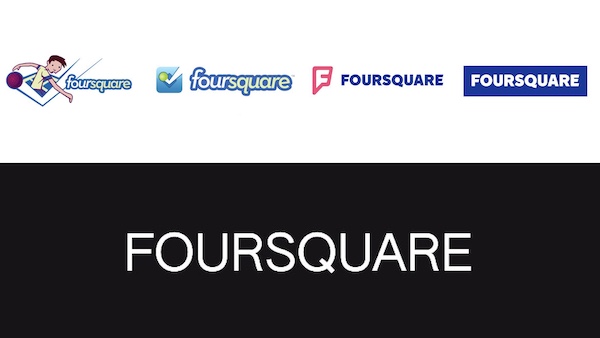 Images via Foursquare
As many have
done at one point of their lives, Foursquare had been away for a while to find itself. The app is now back with a new look and feel, but ironically for a location data service, it is making people feel lost.
On 8 December,
Foursquare's co-founder Dennis Crowley
unveiled
the new minimalist brand identity, the result of a longstanding "identity crisis" after expanding from being a check-in social network to becoming a B2B and SaaS platform too. The company spent the past months asking itself, "What story do you want the new brand to say about your company? What elements of the past do you want to preserve? And, when is the right time to undergo such a massive undertaking?"
Then it decided: the new Foursquare should be "an enterprise brand with swagger."
Multidisciplinary creative studio
PLAYLAB INC. was tapped to interpret this objective.
Introducing #FoursquareEverywhere. From our early days as "the check-in app," our focus has always been on inventing the future. Now, we're announcing the next chapter in Foursquare's journey with pride & a hint of swagger! Check out our evolution story: https://t.co/kt92AiQJDV pic.twitter.com/e6jZj0wJCM

— Foursquare (@Foursquare) December 8, 2020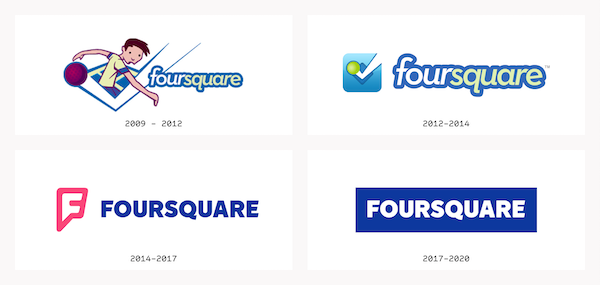 Previous Foursquare logos. Image via Foursquare
The new brand identity
is coined by the company as 'Foursquare Everywhere'. It is described as the combination of Foursquare's "trademark playfulness that has always been synonymous with the Foursquare name," its need for clients to "know that they can trust us," and an embodiment of "being culturally contemporary and interesting," while being a representation of "independence and empathy."
Departing from
its splash of color, most especially the overarching blue in all of its past logos, Foursquare's rebrand sports a primarily black and white wordmark with a thinner sans-serif called 'Authentic Sans'. Blue still features in this visual identity, though it serves more as an accent. The app described that the logo "feels quite bold" in its simplicity and is intentionally "designed to scale as the company grows."
"The artifacts of
Foursquare's previous life needed to be left behind," the company explained. "The colors, the typography, the logo, photography and art direction move past where Foursquare was, and show the public where we're going next."
So, where
is it going next? That's the question on everybody's mind. Creatives are infuriated at how they were taken on a roundabout, one filled with abstract and vague expressions, with no destination in sight. Nobody knows exactly what product Foursquare is touting.
"I read this entire
long-ass article and didn't learn a single thing about what Foursquare is doing," one
responded
. Another
remarked
, "We're more confused now after reading that then we were before. Can someone explain in one sentence what they're doing exactly?" A user
said
the whole description reads like "a joke from
HBO
's
Silicon Valley
."
Whether or not
this will be helpful for you, the company described that the new branding "is timeless, yet contemporary. It's credible and independent, and stands out from the crowd with authority and swagger."
"'Foursquare Everywhere' is both
a rallying cry and an articulation of our strategy," Foursquare elaborated. "Internally, this phrase will inspire our employees to keep building and improving the Foursquare technology and data that already powers apps and tools used by millions of people every day. Externally, 'Foursquare Everywhere' tells the world (including consumers, customers, partners and more) not only what our vision for the company is, but also hints that today's Foursquare tech is likely already baked into the products and services they're using daily."
Maybe the following
visuals will tell you more about the rebrand. Maybe not.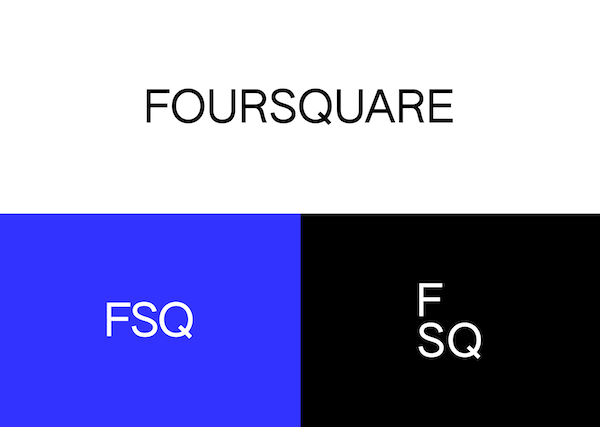 Image via Foursquare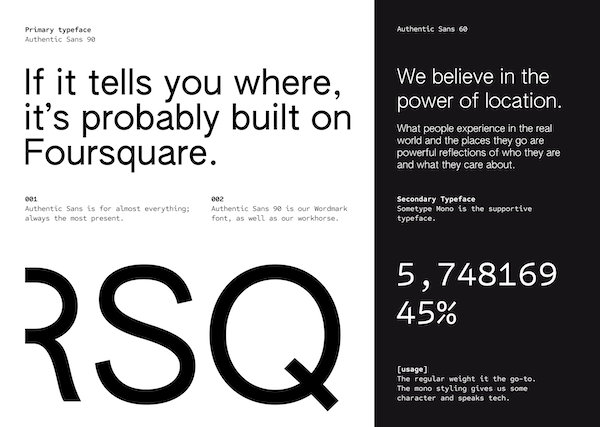 Image via Foursquare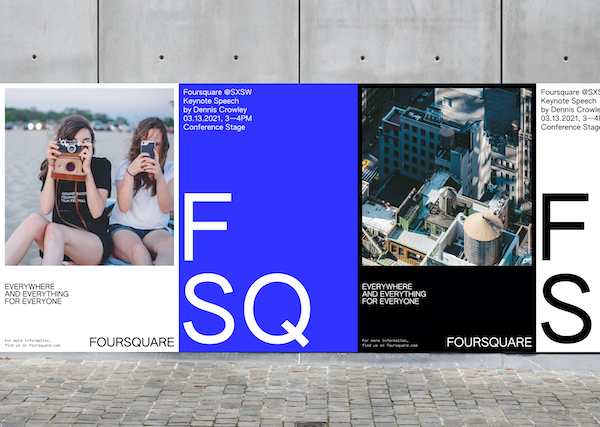 Image via Foursquare
"This brand identity is timeless, yet contemporary. It's credible and independent, and stands out from the crowd with authority and swagger."

Sounds like a joke from HBO's Silicon Valley.

Like. Actually. What. A. Joke.

— Ian Panchèvre (@IanPanchevre) December 9, 2020
I read this entire long-ass article & didn't learn a single thing about what Foursquare is doing.

— Ryan Shattuck (@ryanmer) December 9, 2020
Yeah... read the whole thing and have even less idea of what they're going to focus on now. Someone was paid a lot to write that up and promote it and it had the opposite effect to what they were intending. And I've been a long time user.

— Kevin Railsback (@kevinrailsback) December 9, 2020
Making Logos it seems.

— Bill Cutrer (@Cutrer) December 10, 2020
[via
Foursquare
, images via
Foursquare
]
Receive interesting stories like this one in your inbox
Also check out these recent news