Don't miss the latest stories
Share this
NASA Reveals Alluring Images From 'Grand Canyon Of Mars' 10X Larger Than Earth's
By Mikelle Leow, 11 Jan 2021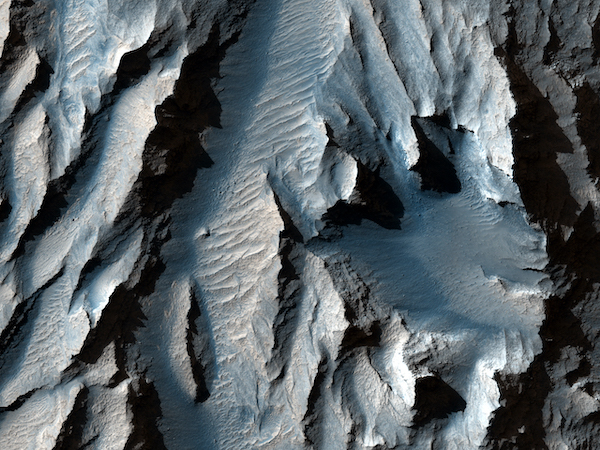 Image credit: NASA/JPL/UArizona. Via HiRISE Operations Center
Mars may be
deemed as a close match to Earth, but when it comes to the battle of Grand Canyons, there's really no comparison.
Piquing your wanderlust,
NASA has unveiled new photos of Valles Marineris on Mars, the largest canyon in the solar system. The compelling images were
photographed by
the High Resolution Imaging Science Experiment (HiRISE) camera installed in the Mars Reconnaissance Orbiter.
The Martian canyon
stretches some 2,500 miles, which is about the distance between New York and San Francisco, according to
Travel + Leisure
. It's also nearly 10 times the length of Earth's Grand Canyon and thrice as deep.
It remains unclear
how the vast Valles Marineris—with a width of 125 miles and a depth comparable with Earth's oceans—came to be, since the Red Planet is too hot and dry for a river to form a deep canyon system.
Scientists, however,
have surmised
that eruptions of volcanoes in the Tharsis region had cracked the planet's crust billions of years ago, resulting in a canyon system almost a quarter the circumference of Mars.
In comparison,
the Grand Canyon had come about from over billions of years of water coursing through its existing channels.
HiPOD: The Obliquity of Mars (Periodic Bedding in Tithonium Chasma)

This HiRISE image of an east-facing slope in Tithonium Chasma was taken to follow up an earlier Context Camera image that seemed to show sediment layers of near-uniform thickness.

More: https://t.co/7De3nMZvsI pic.twitter.com/oRvCNfWpk9

— HiRISE: Beautiful Mars (NASA) (@HiRISE) December 26, 2020
HiPOD: Light-Toned Deposits along Coprates Chasma Slopes

Valles Marineris contains kilometers-thick light-toned layered sedimentary
deposits along many of its floors. In this image, we find similar deposits along wallrock slopes in Coprates Chasma.https://t.co/hggCXZgTex pic.twitter.com/TUnhFN8nrj

— HiRISE: Beautiful Mars (NASA) (@HiRISE) December 25, 2020
Image credit: HiRISE (High Resolution Imaging Science Experiment)/Mars Reconnaissance Orbiter

— Jasmine 🌌🔭 (@astro_jaz) January 6, 2021
[via
SlashGear
, images via
Delaware Humane Association
]
Receive interesting stories like this one in your inbox
Also check out these recent news