Don't miss the latest stories
Share this
LinkedIn Uncovers The 15 Up-And-Rising Job Types In 2021
By Mikelle Leow, 14 Jan 2021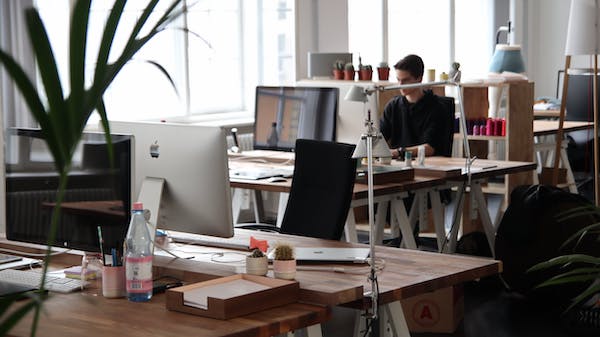 Image via Marc Mueller / Pexels
It's staggering
to have seen one virus overturn industries around the world and crush seemingly concrete strategies in one fell swoop. No one could have predicted this sudden push for remote-working and cancelation of in-person gatherings.
Future-proofed jobs
and talents are, therefore, looking a lot different today. "Fields like aviation and hospitality were hit hard by the
coronavirus pandemic
," noted Andrew Seaman, senior editor for Job Search and Careers at LinkedIn. "While areas like health care, education, and finance had to ramp up hiring to meet increased demand."
If, like many,
you're looking to upskill or change course, the professional network has rounded up 15 job categories it has witnessed to be
on the rise
. The data encompasses an analysis of millions of job postings between April and October 2020, revealing the most high-demand fields based on year-over-year expansion.
Find out
the 15 up-and-coming job categories and skills, according to LinkedIn's data scientists, below. You can read the full report
here
.
1. E-commerce frontliners
Job titles:
Driver, Supply Chain Associate, Package Handler, Personal Shopper
Top locations hiring:
Chicago, New York City, Washington, DC
Skills in demand:
Time Management, Customer Service, Leadership
Salary range:
US$42,000 to US$56,000
2. Loan and mortgage professionals
Job titles:
Underwriter, Mortgage Loan Officer, Escrow Officer, Loan Closer
Top locations hiring:
New York City, Dallas, Chicago
Skills in demand:
Risk Management, Customer Service, Credit Analysis
Salary range:
US$43,700 to US$60,000
3. Healthcare support
Job titles:
Health Care Assistant, Pharmacy Technician, Dental Assistant, Home Health Aide
Top locations hiring:
New York City, Boston, Chicago
Skills in demand:
Patient Education, Data Entry, Physician Relations
Salary range:
US$65,300 to US$106,000
4. Business development and sales experts
Job titles:
Sales Consultant, Sales Operations Assistant, Inbound Sales Specialist, Strategic Advisor
Top locations hiring:
New York City, Denver, Atlanta
Skills in demand:
Customer Retention, Sales Process, Team Building
Salary range:
US$43,300 to US$105,000
5. Workplace diversity experts
Job titles:
Diversity Manager, Diversity Officer, Head of Diversity, Diversity Coordinator
Top locations hiring:
New York City, San Francisco, Chicago
Skills in demand:
Community Outreach, Teaching, Organizational Development
Salary range:
US$72,900 to US$97,000
6. Digital marketing professionals
Job titles:
Digital Marketing Specialist, Social Media Manager, Marketing Representative, Search Engine Optimization Specialist
Top locations hiring:
New York City, San Francisco, Los Angeles
Skills in demand:
Product Marketing, Digital Strategy, Brand Management
Salary range:
US$48,000 to US$96,000
7. Nurses
Job titles:
Registered Nurse, Certified Nursing Assistant, Nurse Practitioner, Intensive Care Nurse
Top locations hiring:
New York City, Los Angeles, Philadelphia
Skills in demand:
Patient Advocacy, Clinical Research, Time Management
Salary range:
US$73,000 to US$111,000
8. Education experts
Job titles:
Registered Nurse, Certified Nursing Assistant, Nurse Practitioner, Intensive Care Nurse
Top locations hiring:
New York City, Chicago, Washington, DC
Skills in demand:
Teaching Assistant, Elementary School Teacher, Mathematics Tutor, Curriculum Developer
Salary range:
US$46,500 to US$63,200
9. Digital content creators
Job titles:
Content Coordinator, Writing Consultant, Podcaster, Blogger
Top locations hiring:
New York City, Chicago, Atlanta
Skills in demand:
Video Editing, Creative Writing, Public Speaking
Salary range:
US$46,000 to US$62,400
10. Professional and personal coaches
Job titles:
Career Coordinator, Life Coach, Fitness Coach, Business Coach
Top locations hiring:
New York City, Houston, Boston
Skills in demand:
Mentoring, Social Media, Entrepreneurship
Salary range:
US$44,300 to US$50,000
11. Specialized developers and engineers
Job titles:
Web Developer, Full Stack Engineer, Frontend Developer, Game Developer
Top locations hiring:
San Francisco, New York City, Washington, DC
Skills in demand:
Program Management, Web Development, Distributed Systems
Salary range:
US$77,500 to US$104,000
12. Mental health specialists
Job titles:
Behavior Therapist, Mental Health Specialist, Psychotherapist, Mental Health Technician
Top locations hiring:
Boston, San Francisco, New York City
Skills in demand:
Play Therapy, Mindfulness, Cognitive Behavioral Therapy (CBT)
Salary range:
US$41,600 to US$65,000
13. User experience professionals
Job titles:
User Experience Designer, Product Design Consultant, User Interface Designer, User Experience Researcher
Top locations hiring:
San Francisco, New York City, Seattle
Skills in demand:
Web Design, Design Thinking, User Experience Testing
Salary range:
US$80,000 to US$103,000
14. Data science experts
Job titles:
Data Scientist, Data Science Specialist, Data Management Analyst
Top locations hiring:
Washington, DC, San Francisco, New York City
Skills in demand:
TensorFlow, Statistical Modeling, Data Visualization
Salary range:
US$100,000 to US$130,000
15. Artificial intelligence specialists
Job titles:
Machine Learning Engineer, Artificial Intelligence Specialist, Machine Learning Researcher
Top locations hiring:
San Francisco, New York City, Seattle
Skills in demand:
C++, Amazon Web Services (AWS), Python (Programming Language)
Salary range:
US$124,000 to US$150,000
[via
Tech Republic
, cover image via
Marc Mueller
/
Pexels
]
Receive interesting stories like this one in your inbox
Also check out these recent news