Don't miss the latest stories
Share this
Canon Launches Site That Lets You 'Take Photos' From Its Satellite In Space
By Mikelle Leow, 19 Jan 2021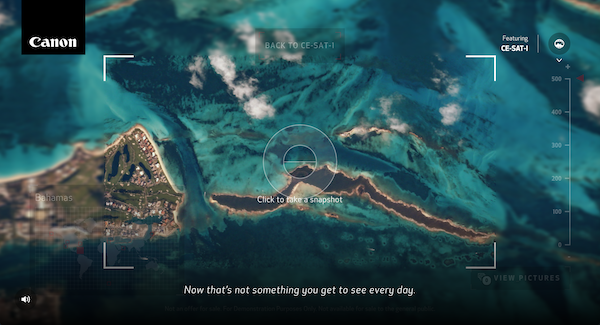 Screenshot via Canon
With all that's
happening at once in the world, it can get overwhelming and difficult to grasp that there's strength in community. What better way to see the bigger picture than to view it all from space?
Canon's new interactive website,
created to demonstrate the capabilities and quality of its CE-SAT-1 satellite, could offer some perspective on how Earth is so unique yet intertwined. The online demo invites you to "take pictures" from space via the EOS 5D Mark III DSLR- and PowerShot S110 (for wider shots)-equipped microsatellite.
The site's content
is narrated by astronaut Marsha Ivins, who explains the importance of satellite photography besides just looking cool. Satellite images of Antarctica, for instance, allow scientists to track the state of its ice caps. Meanwhile, busy destinations like New York City will benefit from space imagery as it can monitor traffic patterns to alert residents of faster and more predictable routes.
Particularly stunning
is the way San Jose looks from space. Up above, the city stands out with its vibrant and diverse silhouettes. "Earth is full of strange and unique patterns that you can only see from space," Ivins reflects. "I think this looks a bit like an abstract art piece."
To be specific,
you won't be taking the photos in real-time. The images are all pre-photographed, since CE-SAT-1 orbits the planet at almost 17,000 miles per hour, traveling around Earth in about an hour and a half. However, you can be rest assured that the pictures displayed were all taken with the microsatellite, which
Engadget
reports to be around the size of a wine barrel.
The CE-SAT-1
is claimed to be able to offer a 36-inch ground resolution in a 3x2 mile frame. For context, the WorldView-4, the highest-resolution satellite in the world, can produce 12 inches.
To get exploring
around the globe, head over to Canon's
interactive demo
.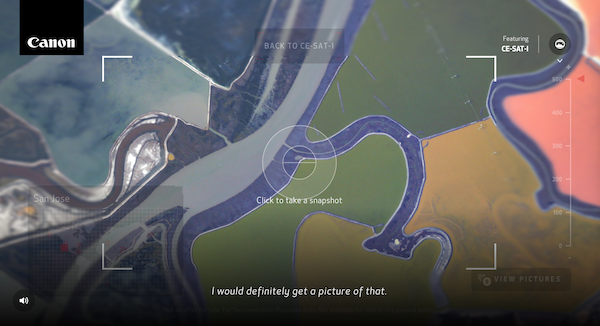 Screenshot of San Jose via Canon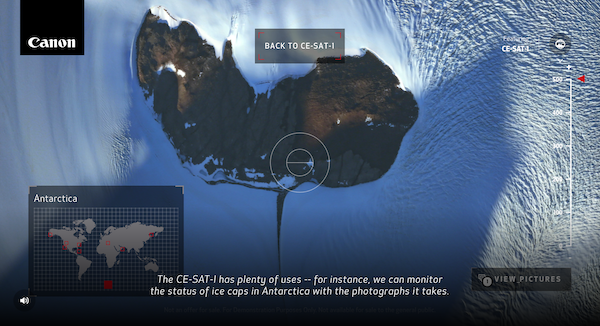 Screenshot of Antarctica via Canon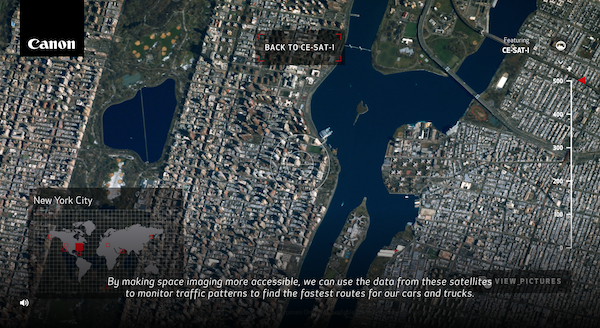 Screenshot of New York City via Canon
[via
Engadget
, images via
Canon
]
Receive interesting stories like this one in your inbox
Also check out these recent news