Don't miss the latest stories
Share this
How The Oval Office's Décor Has Changed Since Biden Moved Into The White House
By Mikelle Leow, 22 Jan 2021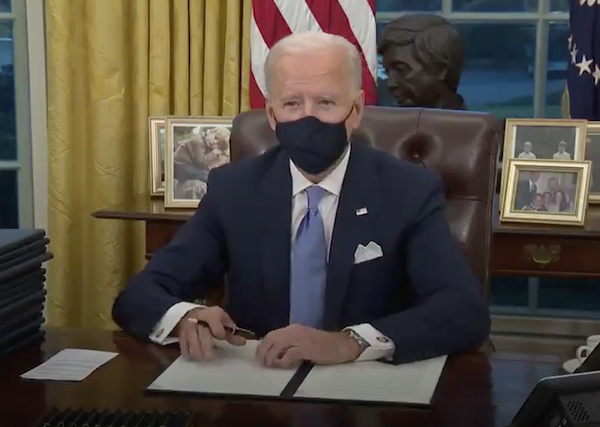 Video screenshot via President Biden
It has been reported
that new presidents
only have five hours
to move into the White House, and it seems that Joe Biden had already come prepared with how he would redecorate the Oval Office during his transition.
In a short matter
of time, President Biden has changed the mood of the room by bringing in symbolic elements that represent his personality and how he would pursue his presidency.
Yesterday, I took the first of many steps toward building our nation back better. pic.twitter.com/2o1S9pTjzk

— President Biden (@POTUS) January 21, 2021
Right off the bat,
members of the press spotted the bust of farm labor leader César Chávez, newly located behind the president's desk.
Inbox: A bronze bust of farm labor leader Cesar Chavez is on display in Biden's Oval Office. It had been on display in the visitor center of the Cesar E. Chavez National Monument, and the President's transition team requested the artwork. pic.twitter.com/6YVdgd7tUT

— Rebecca Plevin (@rebeccaplevin) January 20, 2021
For decades since
the 1960s, Chávez led numerous non-violent strikes and marches to fight for farm labor conditions in the country. His alliance was later christened the United Farmworkers Union.
"Placing a bust
of my father in the Oval Office symbolizes the hopeful new day that is dawning for our nation," responded the labor leader's son Paul F. Chavez in a statement, via
NBC News
. "That isn't just because it honors my dad, but more importantly because it represents faith and empowerment for an entire people on whose behalf he fought and sacrificed."
Biden also added
a sizable number of portraits of American icons in the Oval Office, like the standout portrait of Franklin Delano Roosevelt, who had also dealt with several crises during his presidency.
It looks like @POTUS Biden has made the portrait of Franklin Delano Roosevelt the center piece of the Oval Office. With the right policies, @POTUS Biden could do for broadband in rural areas what FDR did with electricity. #NewDeal #TVA #SocialSecurity #WPA #RuralElectrification pic.twitter.com/RQZQrFDqZN

— Brandon Presley (@BrandonPresley) January 21, 2021
The Roosevelt painting,
now the centerpiece of the office, sits between newly-added pictures of contending forefathers Thomas Jefferson and Alexander Hamilton. Noting the well-documented tension between the two, the display illustrates unity amid differences of opinion.
Denoting POTUS' faith
in science, a portrait of Benjamin Franklin has been incorporated to the left of the Resolute Desk.
The Biden redecoration is complete. Andrew Jackson is out. Benjamin Franklin is in. pic.twitter.com/pb4K68WW5w

— Lewis Goodall (@lewis_goodall) January 20, 2021
Ashley Williams,
the deputy director of operations at the Oval Office, shared with the
Washington Post
, "It was important for President Biden to walk into an Oval that looked like America and started to show the landscape of who he's going to be as president."
A significant change
was the takedown of the painting of populist and former president Andrew Jackson—an inspiration to predecessor Donald Trump—as an apparent stand against racism. Jackson famously enslaved people and approved the
Native Indian Removal Act
, forcing thousands of Native Americans out of their homes and getting killed by white settlers.
He also replaced
Trump's flags of military branches with a flag of the United States and a presidential seal, as well as swapped Trump's gilded drapes for darker ones that were installed by Bill Clinton.
Also gone is
the red call button on the desk. Trump had
demonstrated
that, with a push of the button, a White House butler would come in to serve him a glass of soda. The button had been seen on the desk even through Barack Obama's presidency.
President Biden has removed the Diet Coke button. When @ShippersUnbound and I interviewed Donald Trump in 2019, we became fascinated by what the little red button did. Eventually Trump pressed it, and a butler swiftly brought in a Diet Coke on a silver platter. It's gone now. pic.twitter.com/rFzhPaHYjk

— Tom Newton Dunn (@tnewtondunn) January 21, 2021
Other busts added
to the room include the likenesses of Eleanor Roosevelt, Martin Luther King Jr, Robert F. Kennedy, and Rosa Parks.
Aside from
redesigning the Oval Office, Biden signed
17 executive orders
on his first day in the White House.
[via
Surface Mag
,
Washington Post
, and
Business Insider
, images via various sources]
Receive interesting stories like this one in your inbox
Also check out these recent news