Don't miss the latest stories
Share this
TIME Celebrates Marcus Rashford For Child Hunger Move With Cover Shot On iPhone
By Mikelle Leow, 18 Feb 2021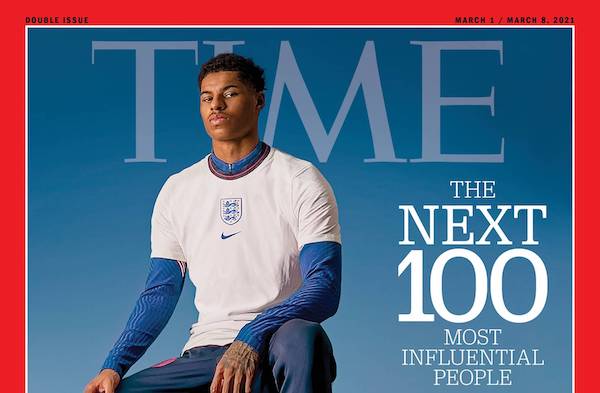 Image via Sorbis / Shutterstock.com
Given the COVID-19
crisis,
TIME
magazine's latest
Next 100 Most Influential People
edition was handled pretty differently. One of its upcoming March covers will see Manchester United star Marcus Rashford posed in a remote photo shoot.
Without any mention
by Rashford or London-based
Nwaka Okparaeke
, who captured his photo, you would have thought the shoot was conducted using professional equipment. Rashford, however, pointed out that he was photographed in his own front room using an iPhone.
Apart from
his influence in English football, Rashford is acknowledged for his philanthropic efforts in addressing homelessness and child hunger. As
9to5Mac
reports, he pushed the UK government to resume distributing free school meals to children from low-income families, which they had been granted before the pandemic. With the crisis, several families found it more difficult to feed members of their households as many of them were laid off or had shorter working hours.
Rashford penned
an
open letter
to members of parliament urging them to offer support to vulnerable families during the pandemic, and it worked. Thanks to his campaign, three million meals are distributed to families in need each week. To alleviate the free school meal deficit, Rashford also teamed up with food charity FareShare to deliver some of these meals.
The soccer player
explained that he would have been left without food too if the crisis had taken place during his childhood. "This is not about politics; this is about humanity," he wrote in his letter. "Looking at ourselves in the mirror and feeling like we did everything we could to protect those who can't, for whatever reason or circumstance, protect themselves. Political affiliations aside, can we not all agree that no child should be going to bed hungry?"
He expressed that
families have been living "on a knife's edge" as a result of the lockdown and haven't been able to get assistance. Plus, the first step of asking for help is already a mental hurdle.
"Do you know how
much courage it takes for a grown man to say 'I can't cope' or 'I can't support my family?'" he elaborated. "Men, women, caregivers, are calling out for our help and we aren't listening."
[via
9to5Mac
, images via various sources]
Receive interesting stories like this one in your inbox
Also check out these recent news