Don't miss the latest stories
Share this
USPS's Quirky Mail Truck Redesign Looks Like It Jumped Right Out Of A Cartoon
By Mikelle Leow, 24 Feb 2021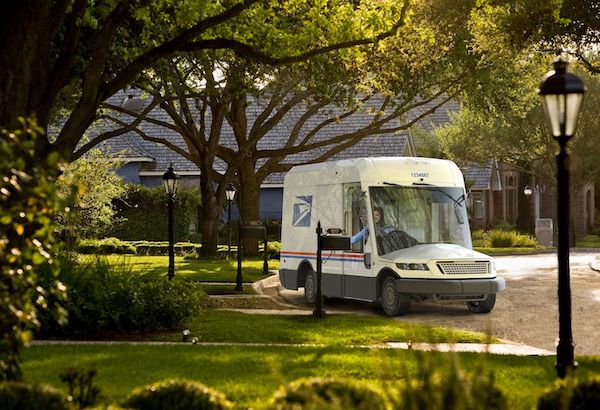 Image via United States Postal Service
In an effort
to pull itself out of
a pit
, the United States Postal Service has inked a multi-billion-dollar modernization deal, which will include a redesign of its delivery trucks.
According to
a report by
Business Insider
, the USPS's existing vehicles, purchased between 1987 and 1994, have been constantly catching fire as a result of being overused. It's been a long time coming, but the service has now
awarded
a 10-year contract to Oshkosh Defense to produce "a new generation of U.S.-built postal delivery vehicles that will drive the most dramatic modernization of the USPS fleet in three decades."
Within the announcement,
the USPS has released an iteration wacky enough to fit the bill of this "dramatic modernization" it speaks of.
Mockups reveal
a vertically-inclined design with a pronounced hood that resembles a beak. Media outlets have likened the truck to
a duck
.
The fleet will
require fuel-efficient engines or battery electric powertrains to catch up with electric vehicle advancements, as well as air conditioning and heating, enhanced ergonomics, and greater cargo capacity to take on higher parcel volumes. Keep in mind that the current trucks have existed since the late 1980s, so they have never been optimized for e-commerce deliveries.
The delivery trucks
will also be given high-tech features, like "360-degree cameras, advanced braking and traction control, air bags, a front- and rear-collision avoidance system that includes visual, audio warning, and automatic braking."
Postmaster General
and USPS Chief Executive Officer Louis DeJoy shared in a press release, "Our fleet modernization also reflects the Postal Service's commitment to a more environmentally sustainable mix of vehicles. Because we operate one of the largest civilian government fleets in the world, we are committed to pursuing near-term and long-term opportunities to reduce our impact on the environment."
The trucks' funky
appearance is reminiscent of vehicles in cartoons, and internet users have been comparing them with cars from the
Busy World of Richard Scarry
,
Cloudy with a Chance of Meatballs
, and
The Simpsons
.
"A huge win
for the comics and animation community, congratulations to us," responded cartoonist
Hannah Vardit
.
Oshkosh Defense is
expected to manufacture 50,000 to 165,000 of the trucks over the next decade. However, the public should see the first of the NGDVs on the road by 2023.
modern vehicle design has evolved to accommodate my inability to properly draw cars https://t.co/wuP9mFke9q

— Michael DeForge (@michael_deforge) February 23, 2021
https://t.co/Wc07DqpwGz pic.twitter.com/E4kRbkSgJJ

— karen han (@karenyhan) February 23, 2021
I'm pretty sure that's the flying car from Cloudy with a Chance of Meatballs. pic.twitter.com/QmfIy9V7h1

— recoveringplanner (@recoveringplan) February 23, 2021
This looks like the mailmans truck in a Dreamworks movie https://t.co/BCY9LdRTZN

— Kenjac (Team 'Zilla) (@JackKennedy) February 23, 2021
Not quite, but almost! pic.twitter.com/9bUpm3Wt7z

— Jeff Asher (@Crimealytics) February 23, 2021
THE NEW USPS CAR DESIGN IS SO CUTE??????? https://t.co/qVqlaWmh8O pic.twitter.com/Mls31PXgP6

— Maaike Scherff (@yesmaaike) February 23, 2021
this looks like a car that would be bullied in the film Cars https://t.co/3dgZCS5y7D

— Walter Hickey (@WaltHickey) February 23, 2021
a huge win for the comics and animation community, congratulations to us https://t.co/7uq60HAc4O

— hannah (@hannahvardit) February 24, 2021
This thing looks like a Big Mouth character https://t.co/Cj9RpxCTYY

— Jesse (@RequiemArm) February 23, 2021
Me when I wear a SnapBack https://t.co/CiwRYBlH2w

— Arin Hanson, Who Shakes The World (@egoraptor) February 23, 2021
[via
Mashable
, cover image via
United States Postal Service
]
Receive interesting stories like this one in your inbox
Also check out these recent news