Don't miss the latest stories
Share this
Woman Gets 'World's First' Tattoo Inked Remotely Via Robot Arm
By Mikelle Leow, 17 Mar 2021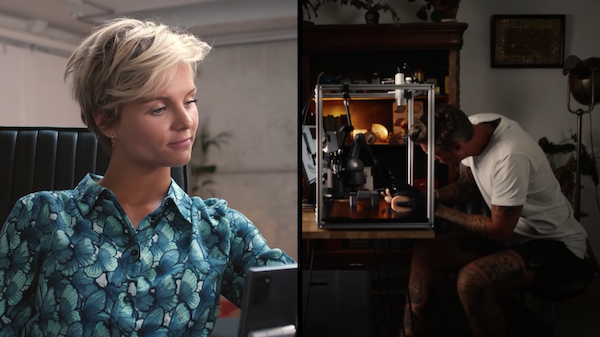 Video screenshot via T-Mobile Netherlands
Would you let
a first-time tattooist ink your arm if you knew they hadn't practiced on anyone else before? How about if you were told they were non-human?
One brave woman
from the Netherlands, actress Stijn Fransen, remained at ease as a robot arm worked a needle into her inner forearm to create what would be the "world's first" remotely-done tattoo. Her real tattoo artist, Wes Thomas, was controlling the machinery all the way in London.
The session was
organized by T-Mobile Netherlands and London-based technologist Noel Drew to push the boundaries of remote communication and showcase how far 5G cellular technology can go.
According to
a report by
PCMag
, the robot deliberately designed for this session went through six weeks of rigorous testing with Drew's design studio,
The Mill
, to ensure it was safe and able to deliver clean strokes on human skin. No guinea pigs were harmed in this process, but "many butternut squash" had to succumb to the robot's strength and needlework, Drew told the publication.
Drew recounted
the "fascinating and terrifying" considerations the team didn't know it had to make, such as the fact that tattoo artists have to dip the needles in ink after every stroke. Replicating this move with robotics would have been "a nightmare," he shared, so the team developed an alternative ink-reservoir system instead.
Of course,
the robot also had to work carefully with human skin and create clean and precise lines. "The tattoo artist has a deep understanding of human skin, which changes hugely depending on the location on the body and also from person to person," Drew told
PCMag
. To ensure consistency, bandages were used on the client's skin to keep it taut. Fransen's arm was also strapped to the chair just in case she squirmed, though she proved to be "so unbelievably calm" during the tattooing experience.
However, Drew doesn't
think that robot tattoo artists will head to the mainstream, especially since he's overseen the process himself. "I wasn't trying to replace traditional tattooing [or] the human aspect of tattooing with this robot-led concept," he emphasized. "I've been careful not to be seen as trivializing the art form, especially after getting such an understanding of it."
[via
New York Post
and
PCMag
, video and cover image via
T-Mobile Netherlands
]
Receive interesting stories like this one in your inbox
Also check out these recent news