Don't miss the latest stories
Share this
TIME Magazine Releases 3 Exclusive NFT Covers Inspired By Iconic 1966 Front Page
By Mikelle Leow, 23 Mar 2021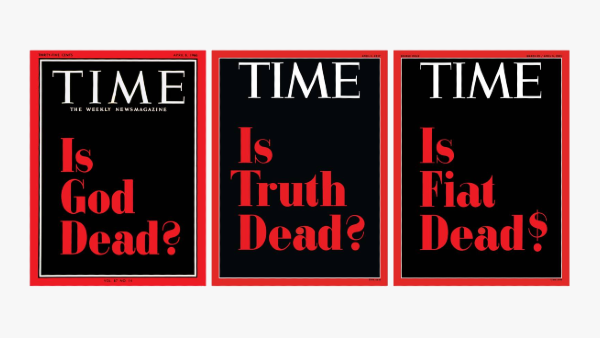 Image via TIME
You've seen so many
ridiculous
non-fungible tokens (NFTs) out there, that
TIME
magazine's version actually makes sense. The publication is pandering to people who collect magazine covers as art by releasing
three exclusive digital covers
in the NFT market.
The artworks,
inspired by
TIME
magazine's
Is God Dead?
cover from April 8, 1966, are now available for auction either individually or as a bundle on cryptocurrency marketplace SuperRare.
The 1966 cover
was the magazine's first to feature only text. The question emblazoned on it, "
Is God Dead?
" was posed by
TIME
religion editor John Elson, who imagined that the touchy statement would intrigue "both believers, who perhaps secretly fear that he is, and atheists, who possibly suspect the answer is no."
The magazine reported
that, during an era when "97-percent of Americans" would answer in a poll that they believed in God, the cover had received 3,421 letters from readers and triggered "countless angry sermons."
On April 3, 2017,
over 50 years later, a similar cover reading, "
Is Truth Dead?
" hit newsstands.
TIME
magazine reprised the design in response to claims made by Donald Trump during his first year of presidency. "Just like many said they believed in God in 1966, many today would say they believe in Truth, and yet we find ourselves having an intense debate over its role and power in the face of a President who treats it like a toy," described editor Nancy Gibbs. "What does he actually believe? Does it count as lying if he believes what he says?"
Yes! @TIME did it!!

The Is ____ Dead? collection, featuring some of the most iconic cover designs in TIME's 98-year history, now available as a 1/1 NFT https://t.co/Y5dfYCdicg 🪙 💰

— Brian Ries (@moneyries) March 22, 2021
The two covers
once again take the limelight as NFT editions, and are joined by a brand new NFT-only cover asking, "
Is Fiat Dead?
" with the question mark flipped to create a dollar sign. The word "fiat" refers to government-issued currency independent from a physical commodity, like gold or silver. Certainly, cryptocurrencies don't fall in this category.
TIME Creative Director
D.W. Pine noted that the "Fiat" term isn't as commonly understood as "God" and "Truth," but the way it works affects people on a global scale. "I love the idea that its meaning isn't clear to the casual viewer – much like the crazy, lucrative world of NFTs," shared Pine.
Is ____ Dead?

One of our most iconic cover designs orig. produced in 1966 & again in 2017, @TIME recreated as NFTs along with a new, original cover: "Is Fiat Dead?"

Available on @SuperRare: https://t.co/v2HxO5MZ9c

Post on @TIME here:https://t.co/W4TENTAwO8

— Keith A. Grossman (@KeithGrossman) March 22, 2021
It's interesting
to witness how
TIME
's branding and layout have evolved through the years. When placed side by side, it becomes clear that the magazine had taken steps to make its masthead more legible with weight and spacing adjustments.
More notably,
TIME
magazine shared that the typography in the latter two covers had to be hand-drawn as the company could not find a modern type foundry that had an exact interpretation of Bodoni Poster, the font used in the original version.
The three covers
will be up for auction until Wednesday, March 24 at 8pm ET.
[via
Ad Age
and
TIME
, cover image via
TIME
]
Receive interesting stories like this one in your inbox
Also check out these recent news