Don't miss the latest stories
Share this
Did You Know: There's Apparently A Museum On The Moon With Art By Warhol & More
By Mikelle Leow, 05 Apr 2021
Did You Know? is a design trivia segment brought to you by DesignTAXI in which we get to the surprise candy of well-loved designs or brands. Stay tuned for more history and behind-the-scenes tidbits as we grow this column.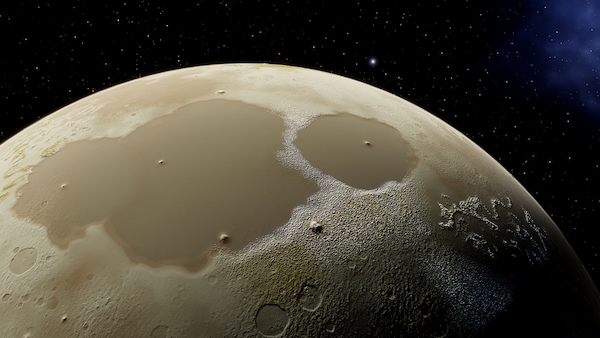 Image via Shutterstock
You've heard of
the Man on the Moon. How about the museum on the Moon?
It is believed that
the celestial body is home to some human-made art. But if you thought you'd get starry-eyed by a whole building's worth of masterpieces there, you would be sorely mistaken.
For Ant-Sized Visitors
There is a secret plaque called the moon museum on the Apollo 12 moon lander with contributions from six artists. pic.twitter.com/eTM0IH7KwM

— Museum Facts (@museum_facts) May 31, 2016
The Moon Museum
is essentially a tiny ceramic wafer measuring
just 9/16 × 3/4 inches
, about the size of a postage stamp. It comprises six artworks by six notable artists, namely Robert Rauschenberg, David Novros, John Chamberlain, Claes Oldenburg, Forrest Myers, and Andy Warhol.
With a canvas
and entire museum that size, the creators ensured to keep their work simple. Rauschenberg kept things abstract with a single line, Novros dreamed up a black square with white lines, Chamberlain created a template resembling circuitry, Oldenburg contributed a Mickey Mouse-like signature, Myers designed an intertwining symbol, and Warhol drew a "stylized signature" that was pretty much a dick pic to keep things—ahem—short and sweet.
Fly Me to the Moon
The museum
made its way to the lunar surface
in November 1969
, four months after man's first steps on the Moon.
However, it wasn't
an authorized project and had to be smuggled to the lunar surface via the Apollo 12 lander.
It was only until
the lander's return to Earth did Myers, who helmed the project, announce he had put a museum on the Moon.
Earth to Art Lovers
There's no need
to wait for the possibility of commercial space travel to enjoy this six-piece work. The lunar version is one of two known copies available, and the other is in the possession of the Museum of Modern Art (MoMA). You can explore it in detail on the establishment's
website
.
Also, if you ever
get to the location of the mini
Moon Museum
, you might float away feeling a little disappointed, because the artwork's placement, or whether it's still there, hasn't been verified.
2/2 #RauschenbergAmongFriends: An edition of "The Moon Museum" was actually sent to the moon! View it here: https://t.co/OwrE8SpXQl

— MoMA The Museum of Modern Art (@MuseumModernArt) September 13, 2017
[via
Open Culture
,
MoMA
,
Open Culture
,
PBS
, images via various sources]
Receive interesting stories like this one in your inbox
Also check out these recent news