Don't miss the latest stories
Share this
Futuristic Superyacht With A Sphere Has Luxury Villas For Eco-Tourists
By Alexa Heah, 12 Apr 2021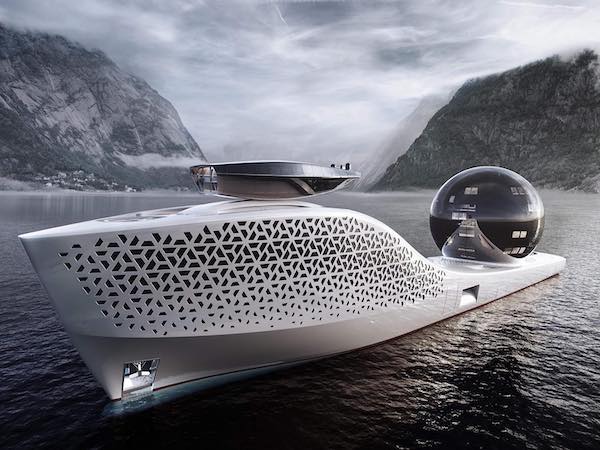 Image via Earth 300
Scheduled to
launch in 2025, the Earth 300 is a superyacht equipped with 22 cutting-edge laboratories, with plans to house 160 of the world's leading scientists onboard. It offers an open-source platform for the global scientific community to share their knowledge, as well as for citizen science and meaningful exploration.
At 300m
(985 ft) long and 60m (197 ft) high, the yacht will be able to accommodate a total of 425 people. Most of the staff, scientists, and students will be traveling for free. A small number of tourists, however, will be housed in 10 luxury villas onboard. A 10-day journey will set you back US$3 million, which will help fund the entire project.
The Earth 300
was the brainchild of entrepreneur Aaron Olivera, and designed by super yacht specialist Ivan Salas Jefferson. According to the
Mint Lounge
, they hope the Earth 300 will be a global architectural icon that'll encourage people to think more seriously about the climate. Immediately eye-catching is its modern minimalist design, and of course, the cantilevered observation deck and 13-story glass "science sphere".
"We wanted
the sphere to inspire whoever looks at it to save the planet," said Olivera, as per the
Mint Lounge
. They want the yacht to be the "Olympic Torch of global science," and indeed it's been a venture just as grand. It has taken over six years and US$5 million for the design to have made it to the shipyards to work out construction quotes.
The estimated
price tag will be between US$500 million and US$700, with a hefty chunk due to the zero-emission atomic power plant helping to develop the eco-friendly Molten Salt Reactor. The marine version of the Molten Salt Reactor will provide sustainable, clean energy needed to move ocean transportation into the future. The Earth 300 would be the first vessel to be powered by this new technology.
While the ship
is scheduled to launch in 2025, the certification for the reactor is expected to be delayed for another five to seven years. In the meantime, the Earth 300 is likely to run on synthetic green fuels.
Olivera has
set his sights on the Earth 300 first circumnavigating Antarctica, followed by an Arctic voyage. The ship will optimally operate for 300 days a year, and generate US$100 million from wealthy eco-tourists, with additional revenue from movie sets and events. Another 10 suites will be set aside for what Olivera calls "Very Interesting Persons" – people who would bring a unique experience of knowledge on board.
He envisages
the project to be "inspirational". "The future of humanity lies in ambitious projects like this one," he said.
#Earth300 #ClimateChange #Sustainability #Environment #Exploration #Green #Innovation #MarineResearch #MarineTechnology...

Posted by EARTH 300 on Tuesday, April 6, 2021
[via
Mint Lounge
, cover image via
Earth 300
]
Receive interesting stories like this one in your inbox
Also check out these recent news