Don't miss the latest stories
Share this
You Can Now Get A Tattoo That Fades In A Year, So There's No Dealing With Regret
By Alexa Heah, 27 Apr 2021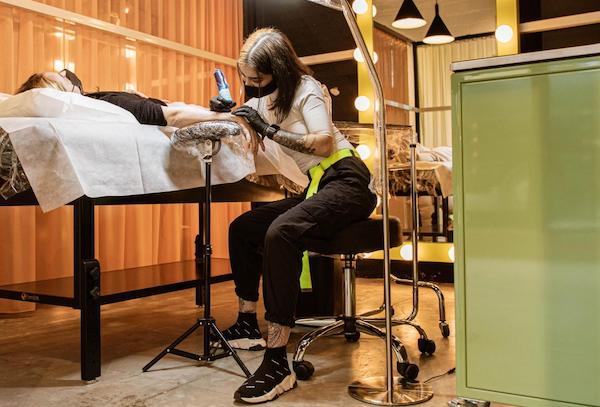 Image via Ephemeral Tattoo
Though many
would like to express themselves in the form of tattoos, the life-long commitment can be too much. Now, Ephemeral Tattoo, which opened in Brooklyn in March, is the first-ever tattoo studio offering tattoos created with ink that fades over the course of a year.
At first,
your ink will look exactly like a "real" tattoo, but as the months pass, the design will begin to slowly fade until it disappears completely.
Made to fade
in nine to 15 months, Ephemeral Tattoo uses ink unlike the kind used by regular tattoo parlors. Its version is made of a "medical-grade solution with carefully selected pigments," which allows your body to break it down and naturally remove it over time.
It took two
of the co-founders, Dr Vandan Shah and Dr Brennal Pierre, over six years to develop the unique ink. And according to
Coveteur
, aside from personally testing the ink with over 200 tattoos, Ephemeral sent the ink for an IRB-approved clinical trial to scientifically validate its safety and efficacy.
Getting a tattoo
at this parlor is a simple process. First, after booking an appointment with the studio, customers can send pictures, sketches, and style ideas for their tattoo design. If you're unsure of exactly what you want, the studio offers one-to-one consultation with the artist as part of the experience.
Finally, you can
choose the placement of your new tattoo and make any final changes.
Co-founder Josh Sakhai
told
Coveteur
that most customers at Ephemeral are looking for tattoos that are meant to fade. "Those fearing permanence but getting excited by tattoos are our target demographic," he explains.
Currently, Ephemeral
doesn't offer permanent tattoos. However, it has observed that many customers use its service as a gateway to a tattoo that doesn't fade. Some are on the fence about making a life-long commitment to a tattoo, or want to see the design in real life before taking the plunge and making it permanent.
The bad news
is that despite the tattoos not being permanent, they will still hurt. Ephemeral uses the usual tattoo machinery, and the ink is applied by breaking open the skin. While you're still unable to get a pain-free tattoo, semi-permanent ones are now a reality!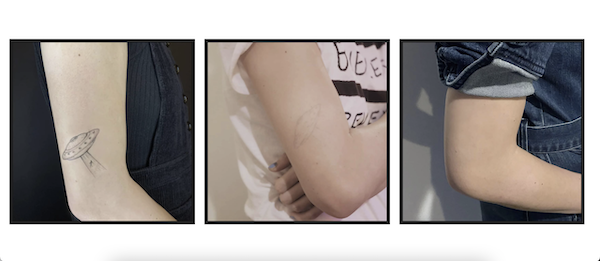 Image via Ephemeral Tattoo
[via
Coveteur
and
Ephemeral Tattoo
, images via various sources]
Receive interesting stories like this one in your inbox
Also check out these recent news